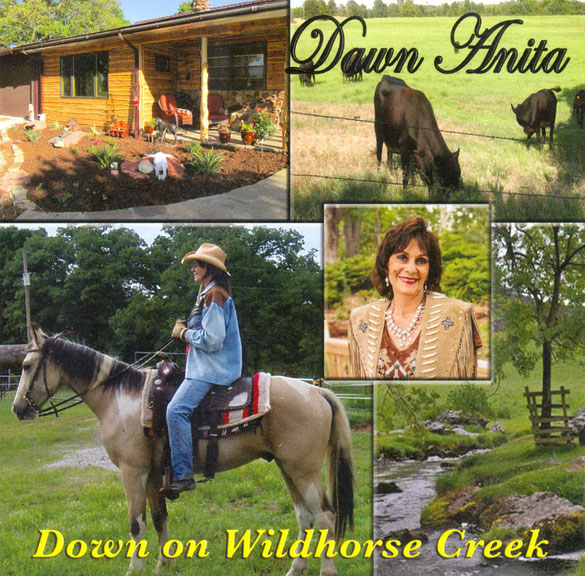 Dawn Anita (Plumlee) was the winner of the title Ms. Senior Oklahoma, she lives with her husband on a ranch raising cattle and horses...and she's recorded an album I am naming "The Pick" of this quarter's CDs!!  What more could you want?  Solid, tight performances and great arrangements on good covers and original Western songs that bear intelligent lyrics and memorable melodies!!  But maybe I satisfy easily...
Among the picks are the title track, "Out On The Land" (though a bit reminiscent of "Ghost Riders..."), "If You Want To Be A Cowboy,"  the apparently autobiographical "Dawni & Cloud," "Does Anybody Need A Cowboy," the swinging "Broke Him To Ride," "Ride The Wind," "Singing Cowboys" and Ridin' Rainbows."  One track ("Ride Of The Strawberry Roan") seems to have been mastered in a bit hot and clips in the playing (on my copy, anyway).
A lot of thought, arranging and performing talent went into this one...not to mention, I suspect, money.  I'm afraid the album could remain unheard or untried due to not quite as much thought having been devoted to the cover packaging.  I suggest bringing in a strong graphic artist or designer next time (or for any subsequent reissue of this one).  The quality level shouldn't have come as quite THIS big a surprise!
Fourteen tracks.  Highly recommended!
CD:  www.dawnanita.com or inquire through dawnanita@yahoo.com
Down on Wildhorse Creek
Dance to the Music
Empty Cot in the Bunkhouse
Grandpa Joe Diffie, Our Dad
Misfortunes Own Sons
Out on the Land
Ride of the Strawberry Roan
If You Wanna Be a Cowboy
Dawni & Cloud
Does Anybody Need a Cowboy
Broke Him to Ride
Ride the Wind
Singing Cowboys
Ridin' Rainbows