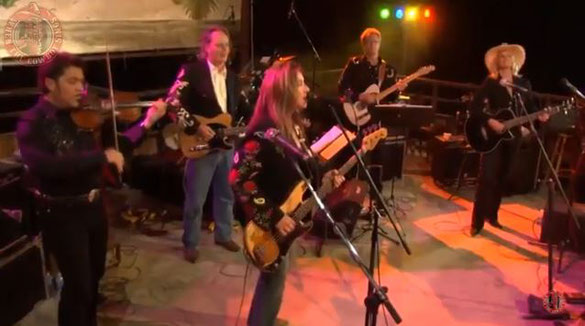 TruCountry: Debbie Duschel performs "Honky Tonk Night Time Girl"on TruCountry Show.
I was born in San Diego and raised between San Diego and Yucaipa, California. My mom sang and played guitar and bass with Tex Ritter and CMA founding member Smokey Smith. My dad played fiddle and lead guitar with Bob Wills and the Texas Playboys and also worked and recorded with Capitol Records Rock-a-Billy Hall of Fame artist Merrill Moore. Together, my mom and dad wrote and recorded their own original songs with Crystal Records in Los Angeles (1949-1956 under the names Jean Davidson & Johnny Duschel), as well as played regularly on Cliffe Stone's Hometown Jamboree TV show in Hollywood, CA.
At age eleven I decided that I wanted to be a singer and musician when I grew up. My dad taught me how to play the guitar and I started singing and writing songs. The great western swing musicians that worked with my parents took me under their wing after my father's early death when I was fifteen. My mom told me that if I learned how to play a major instrument in a band I would always work, as opposed to just singing and playing rhythm guitar, so she started me on electric bass. I became an accomplished bass player and singer playing clubs, recording, etc.