The song was originally written by Chess Records' in-house writers and producers Carl Smith and Raynard Miner, and initially recorded by The Dells for the label, but not released. The song was included in the eighteenth studio album by Dolly, New Harvest ... First Gathering (RCA 1977)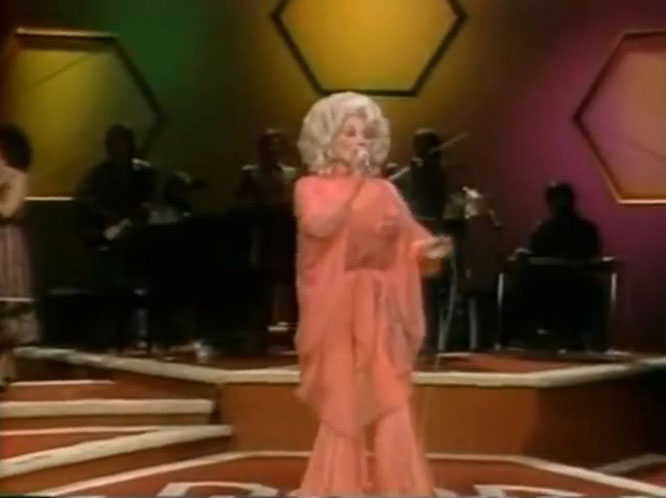 (Your Love Keeps Lifting Me) Higher and Higher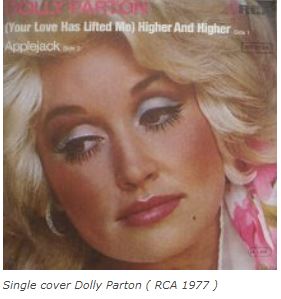 "(Your Love Has Lifted Me) Higher and Higher," a song written by Gary Jackson and Carl Smith, was first recorded by Jackie Wilson on July 6, 1967, at Columbia's Chicago studios. For the Brunswick label, the song was released on July 26, 1967.
Dolly Parton recorded the song for the RCA label, on December 16, 1976, at Creative Workshop, 2804 Azalea Ave., Nashville, TN, with the production of Dolly Parton, the song was not released as a single in the USA.
The song was included in the eighteenth studio album by Dolly, New Harvest ... First Gathering (RCA 1977), the album was released on February 14, 1977, and on May 14, 1977, reached number # 1 in the charts of US Top Country Albums, for a week, and remaining a total of 29 weeks in the charts.
About the song:
The song was originally written by Chess Records' in-house writers and producers Carl Smith and Raynard Miner, and initially recorded by The Dells for the label, but not released. Another writer, Gary Jackson, made some changes to the song and pitched it to Davis at Brunswick.
Finally, A publishing deal for the song was reached with Brunswick after Chess producer / A & R head, Billy Davis intervened. Writing credits were agreed with Smith, Miner, Jackson and Billy Davis all named. Later, Davis removed his credit and BMI now lists the song as by the three other writers. The Dells' version appeared on their album, "There Is" for Chess subsidiary, Cadet the same year.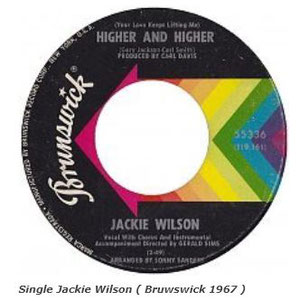 Some versions:
The Four Kents 1968 (RCA)
Otis Redding 1969 (Atco Records)
Dorothy Morrison 1972 (MGM)
Bette Midler 1973 (Atlantic)
Barbara Mandrell 1977 (ABC Dot)
Rita Coolidge 1977 (A&M Records)
Greg Kihn Band 1982 (Beserkley)
Jimmy Barnes 1991 (Mushroom)
And many more, until, as of 70.
Miquel Batlle Garriga




mbatllegarriga@gmail.com
Dolly Parton - (Your Love Keeps Lifting Me) Higher and Higher Lyrics
[Intro]
Your love has lifted me
Your love has lifted me higher, higher and higher
Your love keeps lifting me
Keeps right on lifting me higher, higher and higher
[Chorus]
Your love keeps lifting me
Keeps on lifting me higher, higher and higher
Your love keeps lifting me
Keeps on lifting me higher, higher and higher
[Verse 1]
Your love lifted me higher
Than I've ever been lifted before
So keep it up, feel my desires
And I'll be at your side forevermore
[Chorus]
Your love keeps lifting me
Keeps on lifting me higher, higher and higher
Your love keeps lifting me
Keeps on lifting me higher, higher and higher
[Verse 2]
I'm so glad so glad I found you
I'm so proud that I am your girl
So you keep on holding my hand
I'll be proud to say it to the world
[Chorus]
Your love keeps lifting me
Keeps on lifting me higher, higher and higher
Your love keeps lifting me
Keeps on lifting me higher, higher and higher
[Verse 3]
I was hurt and downhearted
Disappointment was my closest friend
And then you came, hurt somebody
It ain't never gonna show its face again
[Chorus]
No no, your love has lifted me
Keeps right on lifting me higher, higher and higher
Your love keeps lifting me
Keeps right on lifting me higher, higher and higher