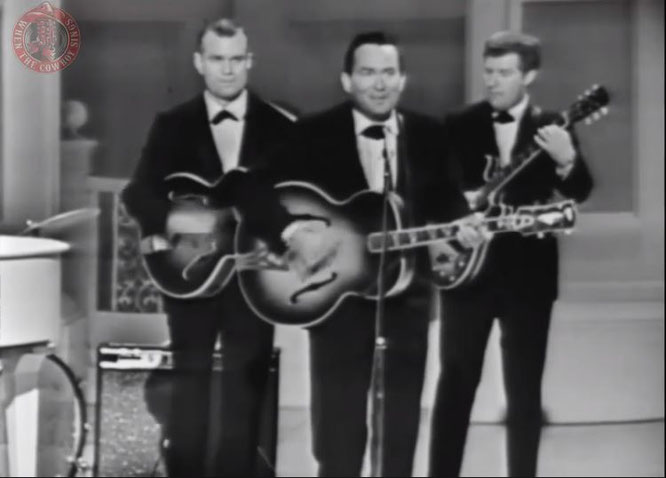 Don Gibson performs "Sea of Heartbreak"
"Sea of Heartbreak" is a song written by Paul Hampton and Hal David and recorded by Don Gibson in 1961. The song reached #2 on the Billboard Hot Country Singles & Tracks chart.
The song has been covered by a number of artists, perhaps most famously by Johnny Cash. Cash's daughter, Rosanne Cash, covered the song in 2009 as a duet with Bruce Springsteen on her album, The List. British pop group The Searchers recorded a version in 1964 for their album It's The Searchers. The Everly Brothers covered the song on their 1967 album, The Hit Sound of the Everly Brothers. In 1982, Poco went to #35 in the USA on the Adult Contemporary chart with their version.
Don Gibson - Sea of Heartbreak Lyrics
The lights in the harbor
Don't shine for me
I'm like a lost ship
Adrift on the sea
The sea of heartbreak
Lost love and loneliness
Memories of your caress
So divine, how I wish
You were mine again, my dear
I'm on this sea of tears
The sea of heartbreak
How did I lose you?
Oh, where did I fail?
Why did you leave me?
Always to sail
The sea of heartbreak
Lost love and loneliness
Memories of your caress
So divine, how I wish
You were mine again, my dear
I'm on this sea of tears
Sea of heartbreak
Oh, what I'd give to sail back to shore
Back to your arms once more
Oh, come to my rescue
Oh, come here to me
Take me and keep me
Away from the sea
The sea of heartbreak
Lost love and loneliness
Memories of your caress
So divine, how I wish
You were mine again, my dear
I'm on this sea of tears
The sea of heartbreak
The sea of heartbreak
Yeah, the sea of heartbreak
Mm, sea of heartbreak