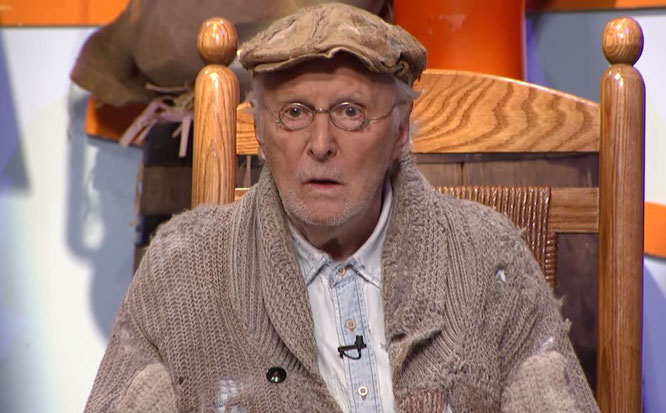 Donald Hugh Harron, OC OOnt (September 19, 1924 – January 17, 2015) was a Canadian comedian, actor, director, journalist, author, playwright, and composer. Harron is perhaps best known for the comedic character Charlie Farquharson from the country music television show Hee Haw.
Harron is known for the character Charlie Farquharson , a personality he first portrayed in 1952 on the CBC series The Big Revue. Harron and the character received international attention as part of the cast of the U.S. country music television show, Hee Haw during its 23-year run; on that series, which ran from 1969 to 1992, Harron portrayed a rural anchorman for station KORN, and concluded the final story of each newscast with a cutthroat gesture. Harron reprised the character on The Red Green Show episode "You've Got Oil" (2003).
Dressed in an overly well-worn sweater and frayed cap, and sporting a grizzled 'two-day beard,' Farquharson is a decidedly rural Ontario farmer from near Parry Sound. He and his wife, Valeda, have a son, Orville. He would deliver his opinion about matters local and worldwide, using many malapropisms in the process that often resulted in both double meanings and increased satire about the events. He was also known for his loud hearty laugh, "Hee! Hee! Hee!". In addition to his television appearances as Charlie, Harron published several books in the persona of the character, reproducing the malapropisms in print and including strange photos and woodcuts as illustrations.