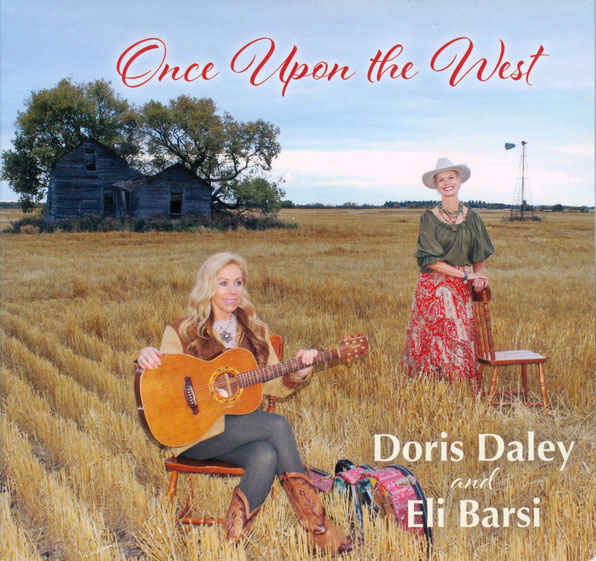 Here's a CD of Daley's words (in Daley's words!) and Daley's words in Barsi's music!!  And there are some of singer Barsi's own creations as well.
Daley's title track poem "Once Upon The West" addresses points that inspire poems and songs spawning the words and melodies we treasure, providing the theme of the collection.  Along the way Daley compares and skewers resorts over encampments, Kardashian-types over farmwives, real coffee's horsepower over "Rancho Tarbucks" and Dad's rhythmic Waltz over any of 'Pop's' rhythms.  She offers appropriate wishes for you ("In Your Next Life"), Granddad's 'wily" coyote plan for his next life ("Say 'Hi' To Grandpa") and Daley grabs you by the heart in "April 1881."
Barsi handles Daley's words adroitly in the songs "Riding Home To You," "Share The Ride With Me," "Canadian Air," "God Only Knows" and "Where Cowboys Ride" (also delivered as a poem as are "Once Upon The West" and "Goodnight To The Trail").
It's a pleasant and effective paring, this Daley/Barsi thing, and it's further enhanced with fine instrumental support from Craig Young, Bruce Hoffman, John Cunningham and Al "Doc" Mehl.  Recommended.  Twenty-One tracks! 
CD:  (contact www.dorisdaley.com or www.elibarsi.com)
- by Rick Huff
Once Upon the West - Doris
Million Star Resort - Doris
Riding Home to You - Eli
Farmwives of Alberta - Doris
In Your Next Life - Doris
Share the Ride with Me - Eli
Where Cowboys Ride - Doris
Where Cowboys Ride - Eli
Say Hi to Grandpa - Doris
Rancho Tarbucks - Doris
Canadian Air - Eli
Three Quarter Time - Doris
Dancing with Dad - Eli
April 1881 - Doris
Hotel Rules - Doris
Goodnight to the Trail - Doris
Goodnight to the Trail - Eli
Never Say No in a Tight Spot - Doris
God Only Knows - Eli
Once Upon the West (Reprise) - Doris
Once Upon the West - Eli