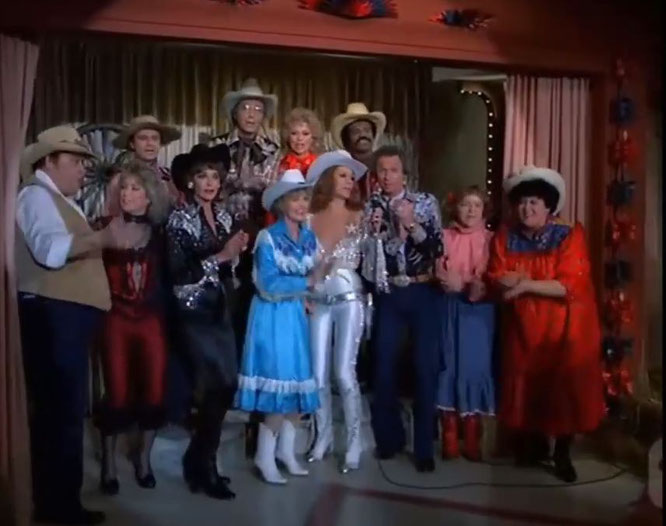 Dottie West and Tanya Tucker sing "Rocky Top" during a country-themed edition of the ABC series "The Love Boat," joined by Mel Tillis, Minnie Pearl, Kenny Price, Pat Buttram, Florence Henderson and "Hee Haw" stars Misty Rowe and Lulu Roman
 "Rocky Top" is an American country and bluegrass song written by Felice and Boudleaux Bryant in 1967 and first recorded by the Osborne Brothers later that same year. The song, which is a city dweller's lamentation over the loss of a simpler and freer existence in the hills of Tennessee, is one of Tennessee's ten official state songs and has been recorded by dozens of artists from multiple musical genres worldwide since its publication. In U.S. college athletics, "Rocky Top" is associated with the Tennessee Volunteers of the University of Tennessee (UT), whose Pride of the Southland Band has played a marching band version of the song at the school's sporting events since the early 1970s.
The Osborne Brothers' 1967 bluegrass version of the song reached No. 33 on the U.S. Country charts, and Lynn Anderson's 1970 version peaked at No. 17 on the U.S. Country charts. In 2005, The Atlanta Journal-Constitution ranked "Rocky Top" number seven on its list of 100 Songs of the South.
Dottie West - Rocky Top Lyrics
Wish that I was on ol' Rocky Top
Down in the Tennessee hills
Ain't no smoggy smoke on Rocky Top
Ain't no telephone bills
Once I had a girl on Rocky Top
Half bear, other half cat
Wild as a mink, but sweet as soda pop
I still dream about that
Rocky Top, you'll always be
Home sweet home to me
Good ol' Rocky Top
Rocky Top, Tennessee
Rocky Top, Tennessee
Once two strangers climbed ol' Rocky Top
Lookin' for a moonshine still
Strangers ain't come down from Rocky Top
Reckon they never will
Corn won't grow at all on Rocky Top
Dirt's too rocky by far
That's why all the folks on Rocky Top
Get their corn from a jar
Rocky Top, you'll always be
Home sweet home to me
Good ol' Rocky Top
Rocky Top, Tennessee
Rocky Top, Tennessee
I've had years of cramped-up city life
Trapped like a duck in a pen
All I know is it's a pity life
Can't be simple again
Rocky Top, you'll always be
Home sweet home to me
Good ol' Rocky Top
Rocky Top, Tennessee
Rocky Top, Tennessee
Rocky Top, Tennessee