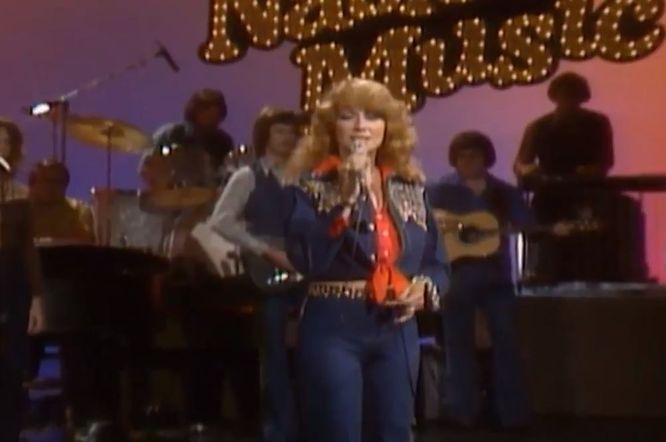 Dottie West performs When It's Just You and Me",Live on That Nashville Music
"When It's Just You and Me" is the name of a 1976 single by Dottie West, that became a Top 10 Country hit in 1977.
This song is important because it marked the first single released by West under her new record company, United Artists. Her material was now more sexual and riskier material, and this was her first single that proved this. her material now was more aimed towards country pop sounding material. The song was released in late 1976, and brought West back as a Country singer, after a rapid downfall of chart success between the years of 1975 and 1976 under RCA (which eventually dropped her from their label because of it). This song brought West back into the Top 20, at No. 19 on Billboard's list.On Cashbox's list, the single hit the Top 10, peaking at No. 10, her first Top 10 hit since 1974.
Dottie West When It's Just You And Me Lyrics
You like to mix with people, I like to be alone
Baby you can stay out all night, and I'd just as well stay home
Two people with so little in common, and different as we can be
We come together around midnight when it's just you and me
When it's just you and me and there's nothing between us Oh, but our own sweet love
When it's time to be tender and try to remember what we're doin' here
Baby, I don't mind we're not two of a kind, just so we agree
Sometime long 'round midnight when it's just you and me
You love to hear the music, you just get up and dance around
Baby, you can act so crazy, you turn it up way too loud
Oh, I've got my share of hang-ups but you never seem to see
And as we come together 'round midnight when it's just you and me
When it's just you and me and there's nothing between us Oh, but our own sweet love
When it's time to be tender and try to remember what we're doin' here
Baby, I don't mind we're not two of a kind, just so we agree
Sometime long 'round midnight when it's just you and me