Reached # 52 on the US Hot Country charts Songs, remaining a total of 10 weeks in the charts. The song was included in Ed's fourth studio album, Tennessean (Epic 1977)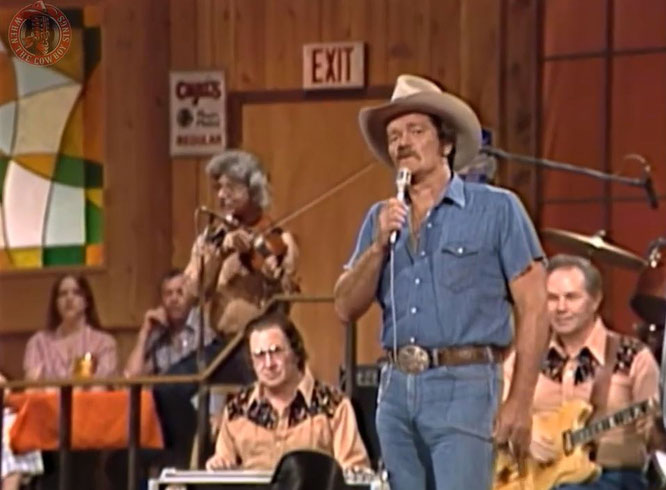 When I Die, Just Let Me Go To Texas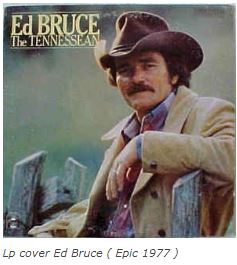 "Texas (When I Die)" or "When I die, just let me go to Texas ·", a song written by Ed Bruce, Patsy Bruce and Bobby Borchers, was first recorded by Ed Bruce for the Epic label in May 1977, at Soundshop Studio, 1307 Division St., Nashville, TN. With the production of Buddy Killen, the song was in July 1977, on September 24, 1977, reached # 52 on the US Hot Country charts Songs, remaining a total of 10 weeks in the charts.
The song was included in Ed's fourth studio album, Tennessean (Epic 1977), the album failed to enter the charts.
The most successful version was that recorded by Tanya Tucker for the RCA label, on April 11, 1978, in Kendun Recorders, Burbank, CA. The song was released on November 25, 1978, reaching number # 5, on February 3, 1979, in the US Hot Country Song charts. The song was included in Tanya's ninth studio album, "TNT" (MCA 1978)
About the song:
Texans don't mess around when it comes to describing their state of origin - they go straight to comparing it to heaven. Tanya Tucker, a native Texan, covered this tune originally sung by Ed Bruce, in 1978, releasing it as the lead-off single from her ninth album TNT. The song is a tribute to the state, noting that if the narrator can't make it to heaven, she'd like to go to Texas, because it's "as close as I've been," counting out other places in the U.S. that just can't compare. It reached No. 5 on the U.S. Billboard Hot Country Songs chart and ended up being used as the Dallas Cowboys 'touchdown song throughout the 80s.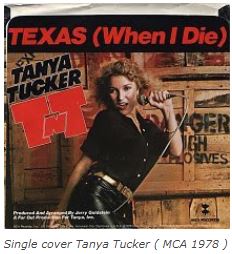 Versions:
Tanya Tucker 1978 (MCA)
Wendel Adkins 1979 (Texas Records)
Brian Golbey & Nick Strutt 1983 (Waterfront)
Heidi Hauge 2000 (Showtime Records)
Mary Sarah & Tanya Tucker 2014 (Cleopatra)
Miquel Batlle Garriga




mbatllegarriga@gmail.com
Ed Bruce When I Die Just Let Me Go To Texas Lyrics
When I die, I may not go to heaven
'Cause I don't know if they let cowboys in
If they don't, just let me go to Texas
Texas is as close as I've been
New York couldn't hold my attention
Detroit City could not sing my song
If tomorrow finds me busted flat in Dallas
Well, I won't care, at least I'll know I'm home
When I die, I may not go to heaven
'Cause I don't know if they let cowboys in
If they don't, just let me go to Texas
Texas is as close as I've been
I'd ride through all of Hell and half of Texas
Just to hear Merle Haggard sing a country song
Beer just ain't as cold in old Milwaukee
My body's here, but my soul's in San Antone
When I die, I may not go to heaven
'Cause I don't know if they let cowboys in
If they don't, just let me go to Texas
Texas is as close as I've been
When I die, I may not go to heaven
'Cause I don't know if they let cowboys in
If they don't, just let me go to Texas
Texas is as close as I've been