The song reached # 1 on the charts of US Hot Country Songs. In the charts of Canadian RPM Country Tracks, also reached number # 1. The song was included in Randy's third studio album, Old 8 × 10 (Warner 1988)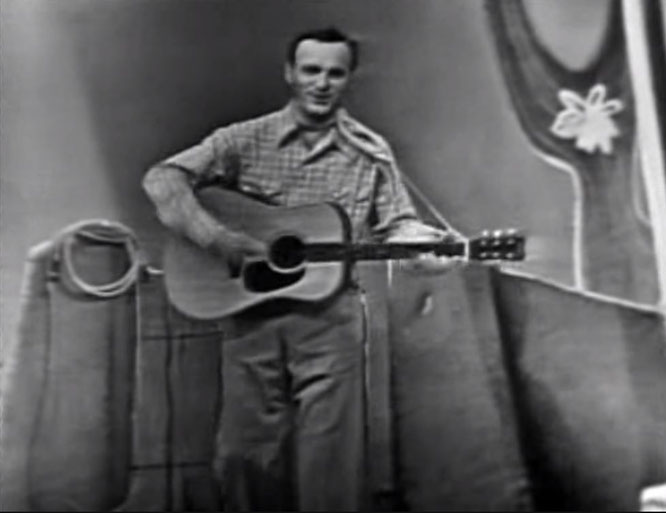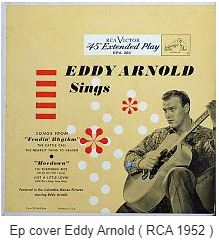 "The Cattle Call", a song written and recorded for the first time by Tex Owens for the Decca label, was recorded on August 28, 1934, in Chicago, IL.
Eddy Arnold & His Tennessee Plowboys, recorded it for the Bluebird label, on December 4, 1944, at WSM Radio Station Studio, Nashville, TN, in the recording session they played: Eddy Arnold (vocal), Herbert M. Paige (lead guitar), Little Roy Wiggins (steel), Gaylord B. "Gabe" Tucker (bass / tpt) and James McNatt (fiddle). The song was released in June 1945. In the Country & Western charts, it reached number # 5. This version of the song was only recorded in single, and was not included on any album.
On September 14, 1949, he would re-record the song for the RCA label, at RCA Victor Studio No. 1, 155 East 24th St., Manhattan, New York City, possibly this version was included in an Ep, which was released in 1952, Eddy Arnold Sings (RCA 1952).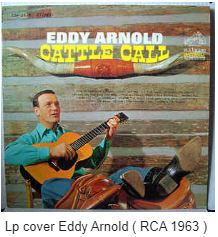 On September 19, 1961, Eddy, would again recorded the song for the RCA label, was recorded at RCA Victor Studio, 1611 Hawkins St., Nashville, TN, in the recording session Eddy was accompanied by: Roy Wiggins (guitar), Velma Smith (guitar), Henry Strzelecki (bass), Buddy Harman (drums), Floyd Cramer (piano) and Anita Kerr Singers. This version would be included in Eddy's studio album, Cattle Call (RCA 1963).
In the fall of 1996, at Curb Studios, Nashville, TN, Eddy re-recorded the duo song with Lee Ann Rimes, the song was included in Lee Ann Rimes' debut album, Blue (Curb 1996)
It became a signature song for Eddy Arnold. Members of the Western Writers of America chose it as one of the Top 100 Western songs of all time.
Little story about the song:
Owens wrote the song in Kansas City while watching the snow fall. "Watching the snow, my sympathy went out to cattle everywhere, and I just wished I could call them all around me and break some corn over a wagon wheel and feed them. That's when the words 'cattle call' came to my mind. I picked up my guitar, and in thirty minutes I had written the music and four verses to the song, "he said.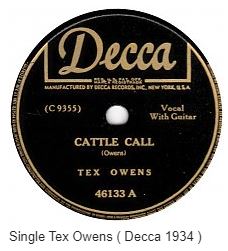 Tex Ritter 1948 (Capitol)
Billy Jack Wills & His Western Swing Band 1952 (4 Star)
Billy Williams Quartet 1953 (Mercury)
Slim Whitman 1954 (Imperial)
Elton Britt 1960 (ABC-Paramount)
Frank Ifield 1963 (Columbia)
Wilf Carter 1964 (RCA Camden)
Billy Walker 1965 (Columbia)
Dottie West 1969 (RCA)
Vernon Oxford 1978 (Release Records)
Don Edwards 1980 (Texas Skyline)
Don Walser 1992 (PTB)
Riders in the Sky 1995 (Rounder)
Wylie & The Wild West 1996 (Two Medicine Music)        
Eddy Arnold - The Cattle Call Lyrics
The cattle are prowlin'
The coyotes are howlin'
Way out where the doggies roam.
Where spurs are a jinglin'
And the cowboy is singin'
His lonesome cattle call.
He rides in the sun,
'Til his days work is done.
And rounds up the cattle each fall.
Singin' his cattle call.
For hours he would ride.
On the range far and wide.
When the night wind blows up and slow.
His heart is a feather.
In all kinds of weather.