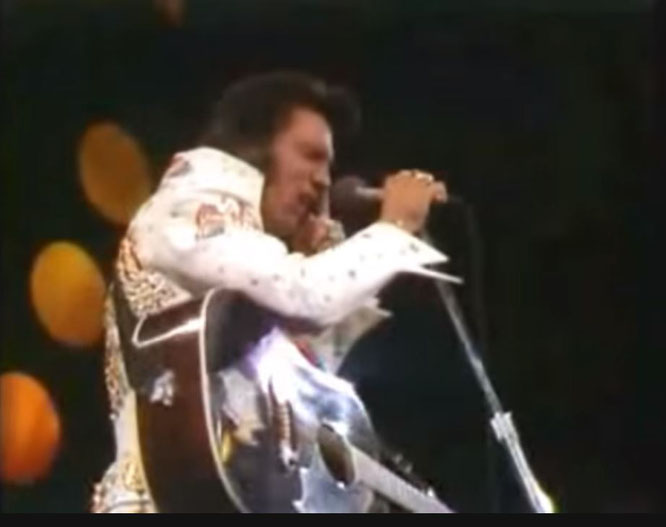 "Burning Love" is a song written by Dennis Linde and originally recorded by country soul artist Arthur Alexander, who included it on his 1972 self-titled album. It was soon covered and brought to fame by Elvis Presley, becoming his biggest hit single in the United States since "Suspicious Minds" in 1969 and his last Top 10 hit in the American Hot 100 or pop charts.
Elvis Presley version
Elvis Presley's cover version became much more popular than the original version, and was released as a single on August 1, 1972, with the B-side "It's a Matter of Time", and it reached the Top 40 on the country charts, peaking at #36. Elvis had recorded it at RCA's Hollywood studios on March 28, 1972. It was his last big hit.The electric guitar opening and riffs were overdubbed and played by Dennis Linde himself.
For the week of October 28, 1972, "Burning Love" rose to #2 on the Billboard Hot 100,[2] being kept from #1 by Chuck Berry's novelty song "My Ding-a-Ling."However, it reached #1 on Cashbox's Top 40 Charts for the week of November 11, which gave him 20 US #1 hits. The song was Elvis's 40th and last Top Ten hit on the US charts. It was also one of the last real rock songs in the last years of his life; from 1972 to 1977 the majority of his songs were ballads, and many of those placed on Billboard's Hot Country Singles chart. "Burning Love" was one of the few exceptions, along with "Promised Land" in 1974.
He performed it in at least two high-profile productions: the concert film Elvis on Tour (during which he had to use a lyric sheet as the song was still new to him), and the later Aloha from Hawaii concert.
The song was also released on an album titled Burning Love and Hits from his Movies: Volume 2 on November 1, 1972. Despite this album's subtitle, none of the movie songs on it were ever hits. The only actual hit on the album was the title song, "Burning Love"
Elvis Presley - Burning Love lyrics
Lord Almighty,
I feel my temperature rising
Higher higher
It's burning through to my soul
Girl, girl, girl
You gonna set me on fire
My brain is flaming
I don't know which way to go
Your kisses lift me higher
Like the sweet song of a choir
You light my morning sky
With burning love
Ooh, ooh, ooh,
I feel my temperature rising
Help me, I'm flaming
I must be a hundred and nine
Burning, burning, burning
And nothing can cool me
I just might turn into smoke
But I feel fine
'Cause your kisses lift me higher
Like a sweet song of a choir
And you light my morning sky
With burning love
It's coming closer
The flames are reaching my body
Please won't you help me
I feel like I'm slipping away
It's hard to breath
And my chest is a-heaving
Lord have mercy,
I'm burning a hole where I lay
'Cause your kisses lift me higher
Like the sweet song of a choir
You light my morning sky
With burning love
With burning love
Ah, ah, burning love
I'm just a hunk, a hunk of burning love
Just a hunk, a hunk of burning love
Just a hunk, a hunk of burning love
Just a hunk, a hunk of burning love
Just a hunk, a hunk of burning love
Just a hunk, a hunk of burning love