Reached # 60 on the US Hot Country Songs charts, and on the US Billboard Hot charts. 100, I reach number # 3. The song was a worldwide success, reaching number one in: Australia, Belgium, Germany, Ireland, New Zealand, Norway, Spain and Sweden, it also reached number two in: Canada, Switzerland and the United Kingdom. The song was included on Elvis' tenth studio album, From Elvis in Memphis (RCA 1969)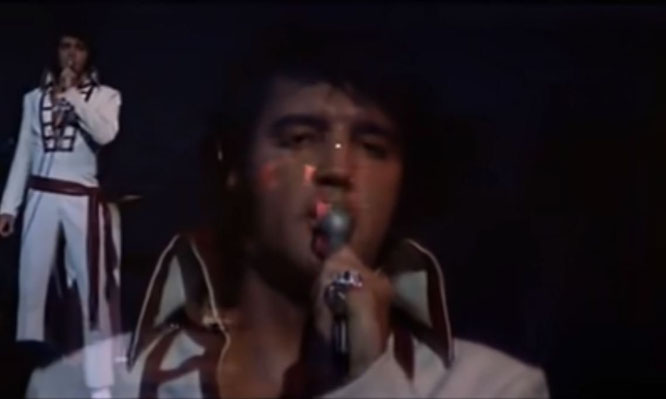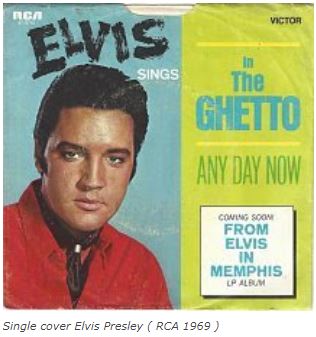 Reached # 60 on the US Hot Country Songs charts, and on the US Billboard Hot charts. 100, I reach number # 3. The song was a worldwide success, reaching number one in: Australia, Belgium, Germany, Ireland, New Zealand, Norway, Spain and Sweden, it also reached number two in: Canada, Switzerland and the United Kingdom. The song was included on Elvis' tenth studio album, From Elvis in Memphis (RCA 1969)
"In the Ghetto", originally titled "The Vicious Circle", was written by Mac Davis, was first recorded by Elvis Presley for the RCA Victor label, on January 21, 1969, American Sound Studio, Memphis, TN, in The Elvis recording session was accompanied by: Reggie Young (guitar), John Hugley (steel), Tommy Cogbill (bass), Mike Leech (bass), Gene Chrisman (drums), Bobby Wood (piano), Bobby Emmons (organ). With the production of Chips Moman and Felton Jarvis, the song was released on April 14, 1969, and on July 19, 1969, reached # 60 on the US Hot Country Songs charts, and on the US Billboard Hot charts. 100, I reach number # 3. The song was a worldwide success, reaching number one in: Australia, Belgium, Germany, Ireland, New Zealand, Norway, Spain and Sweden, it also reached number two in: Canada, Switzerland and the United Kingdom.
The song was included on Elvis' tenth studio album, From Elvis in Memphis (RCA 1969), the album was released on June 17, 1969, on the U charts, S Top Country Albums, reached # 2, on August 30, 1969, remaining on the charts for a total of 34 weeks. The album peaked at number one on the U.K and Norway charts.
In 2000 RCA released a remastered Compact Disc of From Elvis in Memphis, including six bonus tracks (released as A- or B-sides) recorded during the album sessions.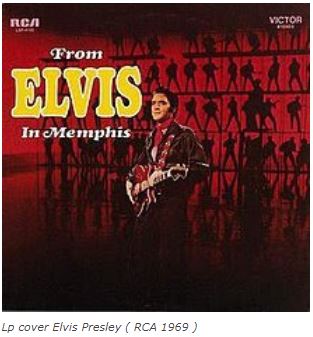 Presley left his regular musicians and studios (Radio Recorders in Hollywood, California and RCA Studio B in Nashville, Tennessee) to record new material in Memphis. During a January 1969 meeting in Graceland, Presley told his regular producer, Felton Jarvis, who did not want to record his next album at RCA Studios. Two of Presley's friends, DJ George Klein and Marty Lacker, suggested that he use American Sound Studio, a promising studio in which Lacker was involved. Elvis would be backed by the studio's house band, the 827 Thomas Street Band (informally known as "The Memphis Boys"), which consisted of Reggie Young on guitar, Tommy Cogbill and Mike Leech on bass, Gene Chrisman on drums, Bobby Wood on piano and Bobby Emmons on organ.
Recording began on January 13, 1969. After the first day's recording, Moman and his colleagues expressed discomfort with the size of Presley's entourage, and the singer was accompanied by fewer people for the remaining sessions. The next day, Presley recorded "I'm Moving On" and "Gentle on My Mind", leaving the studio while working on the latter to rest his throat. Presley returned on January 20, recording "In the Ghetto" in 23 takes and ending the vocal track for "Gentle on My Mind". On January 22, he recorded Eddy Arnold's "I'll Hold You in My Heart (Until I Can Hold You in My Arms)" and the single "Suspicious Minds", which does not belong on the album.
Versions (more than 140 versions):
Merv Shiner 1969 (Little Darlin ')
The Diplomats 1969 (Dynamo)
Nat Stuckey 1969 (RCA)
Bobby Sims 1969 (Top Pop Hits)
Country Road 1969 (Hilltop)
Dolly Parton 1969 (RCA Victor)
Mac Davis 1970 (Columbia)
Merle Haggard 1977 (MCA)
Freddie Starr 1979 (My Way Records)
Raymond Ellis 2008 (Raytone Records)
Nathan Belt 2010 (NAB Records)
Miquel Batlle Garriga




mbatllegarriga@gmail.com
Elvis Presley - In The Ghetto  Lyrics
[Verse 1]
As the snow flies
On a cold and gray Chicago morning
A poor little baby child is born
In the ghetto
And his mama cries
Cause if there's one thing that she don't need
It's another little hungry mouth to feed
In the ghetto
[Verse 2]
People, don't you understand
A child needs a helping hand
Or he'll grow to be an angry young man some day
Take a look at you and me
Are we too blind to see
Do we simply turn our heads
And look the other way
[Verse 3]
Well the world turns
And a hungry little boy with a runny nose
Plays in the street as the cold wind blows
In the ghetto
[Verse 4]
And his hunger burns
So he starts to roam the streets at night
And he learns how to steal
And he learns how to fight
In the ghetto
[Verse 5]
Then one night in desperation
A young man breaks away
He buys a gun, He steals a car
Tries to run, but he don't get far
And his mama cries
[Bridge]
As a crowd gathers 'round an angry young man
Face down on the street with a gun in his hand
In the ghetto
[Verse 6]
And as her young man dies
On a cold and gray Chicago morning
Another little baby child is born
In the ghetto
And his mama cries
In the ghetto