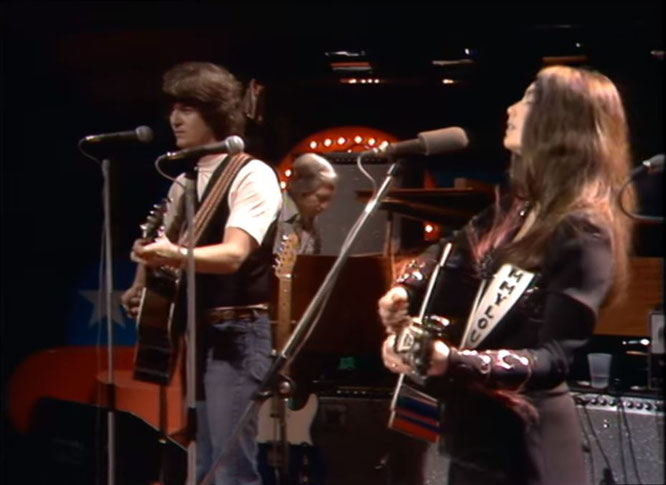 Emmylou Harris  performs "Together Again",live video.
"Together Again" is a 1964 song by United States country singer and guitarist Buck Owens.
The song, best known as the "B" side to Owens' No. 1 hit, "My Heart Skips a Beat", interrupted that song's run at Number One on the U.S. country charts. Steel guitarist Tom Brumley's performance on "Together Again" is considered "one of the finest steel guitar solos in the history of country music" by the Country Music Television staff;it inspired Jerry Garcia to learn the instrument.
Country music singer Emmylou Harris recorded the song for her 1975 album Elite Hotel; her version also ascended to the top of the Billboard Hot Country Singles chart in April 1976, with the flip side, Harris' version of The Beatles' "Here, There and Everywhere" being a minor pop hit as well. In 1979, Owens and Harris dueted on a song called "Play Together Again, Again," which paid tribute to the song both artists recorded and made famous
Emmylou Harris – Together Again Lyrics 
Together again
My tears have stopped falling
The long lonely nights
Are now at an end
The key to my heart
You hold in your hand
And nothing else matters
We're together again
Together again
The gray skies are gone
Your back in my arms
Now where you belong
The love that we knew
Is living again
And nothing else matters
'Cause we're together again
Together again
My tears have stopped falling
The long lonely nights
Are now at an end
The love that we knew
Is living again
And nothing else matters
'Cause we're together again
No nothing else matters
'Cause we're together again