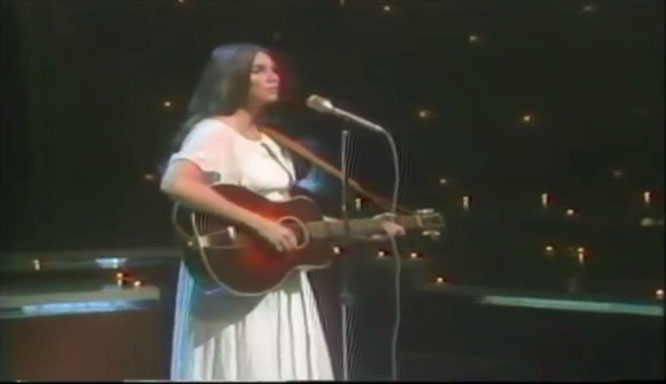 Emmylou Harris  performs "Wayfaring Stranger",live video.
"The Wayfaring Stranger" (also known as "Poor Wayfaring Stranger" or "I Am a Poor Wayfaring Stranger"), Roud 3339, is a well-known American folk and gospel song likely originating in the early 19th century about a plaintive soul on the journey through life. As with most folk songs, many variations of the lyrics exist.
Members of the Western Writers of America chose it as one of the Top 100 Western songs of all time.
Emmylou Harris covered the song on her 1980 album Roses in the Snow. Harris' version peaked at number 7 on the Billboard Hot Country Singles chart. It reached number 1 on the RPM Country Tracks chart in Canada.
Emmylou Harris Wayfaring Stranger Lyrics
I am a poor wayfaring stranger
While traveling through this world of woe
Yet there's no sickness, toil or danger
In that bright world to which I go
I'm going there to see my father
I'm going there no more to roam
I'm only going over Jordan
I'm only going over home
I know dark clouds will gather around me
I know my way is rough and steep
Yet beauteous fields lie just before me
Where God's redeemed their vigils keep
I'm going there to my mother
She said she'd meet me when I come
I'm only going over Jordan
I'm only going over home