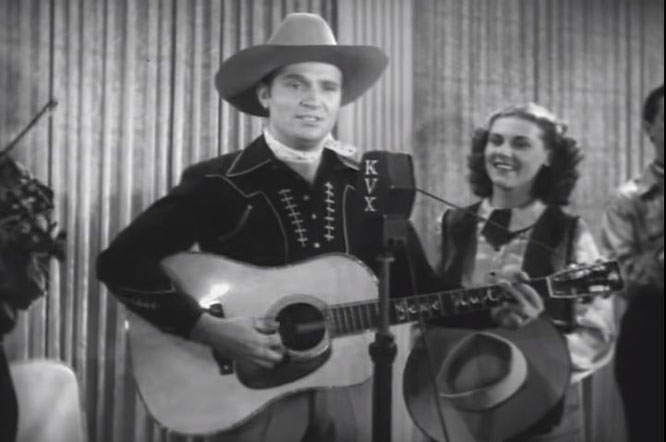 Gene Autry  performs "Back in the Saddle Again"on the movie Rovin' Tumbleweeds.
"Back in the Saddle Again" was the signature song of American cowboy entertainer Gene Autry.It was co-written by Autry with Ray Whitley and first released in 1939. The song was associated with Autry throughout his career and was used as the name of Autry's autobiography in 1976.Members of the Western Writers of America chose it as one of the Top 100 Western songs of all time.
Although the song has long been associated with Gene Autry, the original version of "Back in the Saddle Again" was written by Ray Whitley for the film Border G-Man (RKO Pictures, June 24, 1938) starring George O'Brian, Laraine Day, and Ray Whitley in which Ray Whitley and his Six Bar Cowboys sang the song. As Ray Whitley's Rangers, Whitley recorded the song for Decca Records on 26 October 1938, matrix number 64701, issued as Decca 5628 backed with "On the Painted Desert", matrix number 64703.
Gene Autry liked the song and together with Whitley revised it and recorded it in April 1939, then performed "Back in the Saddle Again" on film in Rovin' Tumbleweeds (Republic Pictures, November 16 1939), and introduced it as his theme song for Gene Autry's Melody Ranch which premiered over the CBS Radio Network on January 7, 1940 where the show ran until 1956. The song also became the title song for the Autry film Back in the Saddle (Republic Pictures, March 14, 1941).
Gene Autry – Back in the Saddle Again Lyrics 
I`m back in the saddle again
Out where a friend is a friend
Where the longhorn cattle feed
On the lowly gypsum weed
Back in the saddle again
Ridin` the range once more
Totin` my old .44
Where you sleep out every night
And the only law is right
Back in the saddle again
Whoopi-ty-aye-oh
Rockin` to and fro
back in the saddle again
Whoopi-ty-aye-yay
I go my way
Back in the saddle again
I`m back in the saddle again
Out where a friend is a friend
Where the longhorn cattle feed
On the lowly gypsum weed
Back in the saddle again
Ridin` the range once more
Totin` my old .44
Where you sleep out every night
And the only law is right
Back in the saddle again
Whoopi-ty-aye-oh
Rockin` to and fro
Back in the saddle again
Whoopi-ty-aye-yay
I go my way
Back in the saddle again