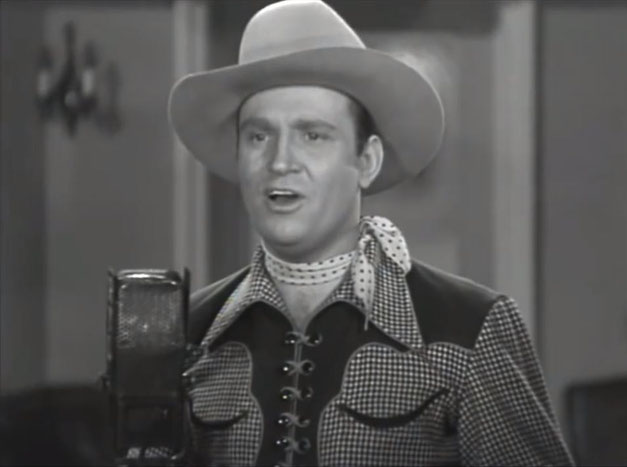 Gene Autry performs " Medley: You Are My Sunshine, Home on the Range & Deep in the Heart of Texas"
"You Are My Sunshine" is a popular song written by Jimmie Davis and Charles Mitchell and first recorded in 1939. It has been declared one of the state songs of Louisiana because of its association with Davis, a country music singer and governor of the state in the years 1944–1948 and 1960–1964.
The song has been covered numerous times — so often, in fact, that it is "one of the most commercially programmed numbers in American popular music."The song, originally country music, has "virtually lost" its original country music identity, and "represent[s] both the national flowering of country music and its eventual absorption into the mainstream of American popular culture." In 1941, it was covered by Gene Autry, Bing Crosby,Mississippi John Hurt, Wayne King and Lawrence Welk. The versions by Autry, Crosby, and King reached the US charts of the day.
Gene Autry - You Are My Sunshine Lyrics
You are my sunshine, my only sunshine
You make me happy when skies are grey
You'll never know dear, how much I love you
Please don't take my sunshine away
The other night dear, as I lay sleeping
I dreamed I held you in my arms
When I awoke, dear, I was mistaken
And I hung my head and cried
You are my sunshine, my only sunshine
You make me happy when skies are grey
You'll never know dear, how much I love you
Please don't take my sunshine away
I'll always love you and make you happy
If you will only say the same
But if you leave me to love another
You'll regret it all some day
You are my sunshine, my only sunshine
You make me happy when skies are grey
You'll never know dear, how much I love you
Please don't take my sunshine away
You told me once dear, you really loved me
And no one else dear, could come between
But now you've left me and love another
You have shattered all my dreams
You are my sunshine, my only sunshine
You make me happy when skies are grey
You'll never know dear, how much I love you
Please don't take my sunshine away