I Don't Need A Thing At All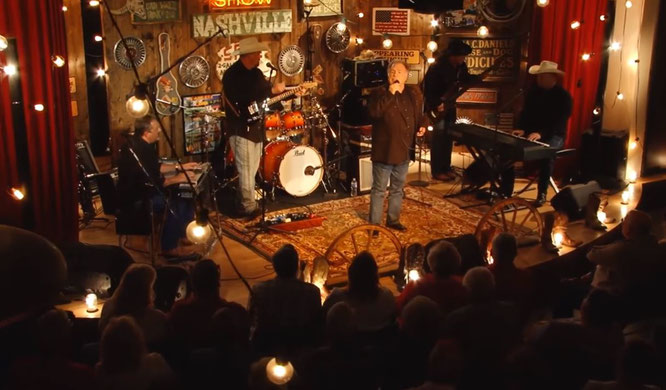 Watson was born in Palestine, Texas, in 1943. He began his music career in the 1960s, performing in local clubs at night while working in a Houston auto body shop during the day. He recorded for only a few small, regional record labels having a regional hit "Bad Water", until 1974, when Capitol Records picked up his album Love in the Hot Afternoon and released it nationally. The title track, a mid-tempo ballad in three-quarter time, was released in June 1975, and it quickly reached Number three on the Billboard magazine Hot Country Singles chart.
Watson's national success continued throughout the late 1970s and early 1980s, as he recorded several Billboard top-40 hits, including "Where Love Begins," "Paper Rosie," "Should I Go Home (or Should I Go Crazy)," "Nothing Sure Looked Good on You," and "Farewell Party," which was released in 1979 and quickly became Watson's signature song and the namesake of his Farewell Party Band.
In February 2012, Watson, celebrated his 50th year in the music business with the release of Best of the Best, 25 Greatest Hits (his very first single on radio "If It Was That Easy" released in 1962). The collection of songs was re-recorded to recreate the originals as closely as possible. The project was produced by Dirk Johnson and released on Watson's own Fourteen Carat Music label. In June 2014, Watson released an eleven track CD "My Heroes Have Always Been Country," all pure, classic country music, covering hits by some of his musical heroes such as Merle Haggard, Ray Price and Lefty Frizzell. On February 26, 2016 Gene Watson released his 33rd studio album titled "Real.Country.Music." This 13-track CD contains traditional country music and the first single release is "Enough For You", a song written by Kris Kristofferson. In 2018, Watson released a Gospel music CD titled "My Gospel Roots". The first single from the 13-track release, "Old Roman Soldier" hit #1 on the Cashbox and Christian Servant Country Gospel charts in June 2018.
Gene Watson was inducted into the Texas Country Music Hall of Fame in 2002 and inducted into the inaugural class of the Houston Music Hall of Fame in August 2013. In 2018 Watson received the "Entertainer of the Year" Award from the R.O.P.E. Awards, an honor he shared with singer, Jeannie Seely. It was the first time in the history of the Awards that there was a tie in any category.
Gene Watson I Don't Need A Thing At All lyrics
Some folks go out dancing
It seems to be their thing
And young girls get up running
When the telephone rings
And people think of lonely things
When leaves begin to fall
But me I don't need a thing at all
Old men get off on checkers
And boys ride off on bikes
But I get off and go on home
When the whistle blows at five
My favorite things are rain storms
And whippoorwills that call
Oh, but I, I don't need a thing at all.
'Cause I got you
And your the thing that makes me happy
Your everything I thought I'd never find.
I guess everybodies got a thing but me
I've got it all
I've got you so I don't need a thing at all...