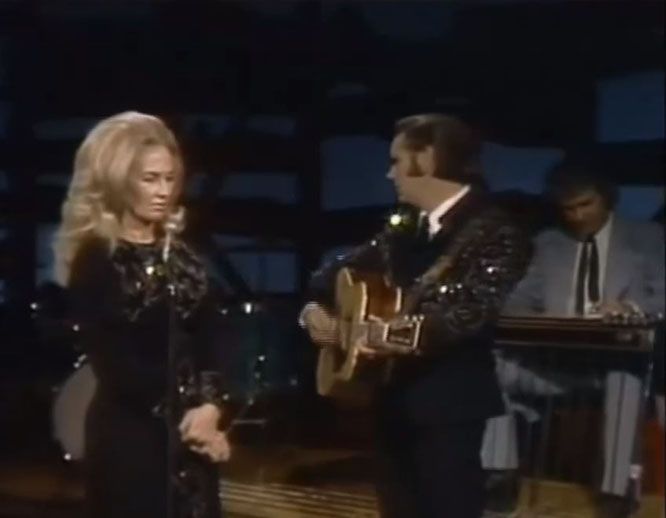 George Jones and Tammy Wynette performs "The Ceremony "on Hee Haw.
"The Ceremony" became the template for many of their early duets: romantic, occasionally overwrought Harlequin love songs that bubbled with optimism. The song mimics a wedding service, beginning with a minister's preamble over a church organ and containing verses where George and Tammy renew their vows and profess their love for each other. It became a highlight of their live shows, although Jones biographer Bob Allen wryly noted that when they sang "The Ceremony" onstage, it was "quite unlike the quickie civil ceremony with which they'd actually sealed their nuptial bond."[In 1995, Jones reflected in his autobiography, "It sounds cheesy now, but it was a show-stopper for two people whose divorce was often the subject of tabloid speculation. People went crazy when we did 'The Ceremony' live."
George Jones And Tammy Wynette The Ceremony Lyrics
Dearly beloved
We are gathered together in the presence of god and these witnesses
To join this man and this woman in the bonds of holy matrimony
Do you, Tammy, take this man, George, to be your lawfully wedded husband?
To love and to cherish until death do you part?
I'll take this man and by him I'll stand
I promise that we'll never part
To him, I'll be true, there'll be no one new
From now, till death do us part
And do you, George, take this woman, Tammy
To be your lawfully wedded wife
To love and to cherish, until death do you part?
Yes, I'll take this woman, she'll be mine forever
And I'll love her, with all of my heart
To have and to hold, my love won't grow cold
I promise, till death do us part
We'll take each other
From this day forward
Together in sickness or health
United with love
We'll face life together
If we're poor or if we have wealth
For better or worst
You'll always come first
And no one can keep us apart
Yes, we take each other
Forsaking all others
Together, till death do us part
I now pronounce you man and wife