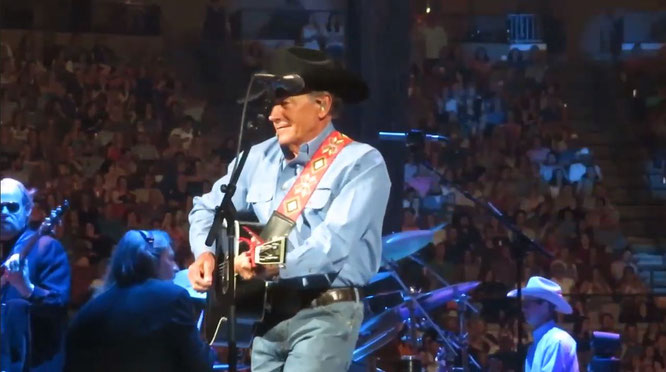 George Strait performs "Give It Away" Live Video.
"Give It Away" is a song performed by American country music artist George Strait, written by Jamey Johnson, Bill Anderson and Buddy Cannon. It was released in July 2006 as the lead single from the album It Just Comes Natural.
The song became Strait's 41st No. 1 single on the U.S. Billboard Hot Country Songs chart, setting a new record for most No. 1 singles on that chart. Previously, Conway Twitty held that record with 40 number-one singles.
At the Academy of Country Music awards in 2007, "Give It Away" won both the Single of the Year and Song of the Year awards; the song also won Song of the Year honors at the Country Music Association Awards the same year. "Give It Away" received a nomination for Best Male Country Vocal Performance at the 2008 Grammy Awards.
George Strait – Give It Away Lyrics
She was stormin' through the house that day
And I could tell she was leavin'
And I thought, 'aw, she'll be back.'
Until we turned around and pointed at the wall and said
That picture from out honeymoon
That night in 'Frisco Bay
Just give it away
She said give it away
That big four poster king sized bed
Where so much love was made
Just give it away
She said just give it away
Just give it away
There ain't nothing in this house worth fightin' over
Oh, we're both tired of fightin' anyway
Just give it away
Oh, I tried to move on
But I found that each woman I held
Just reminded me of that day
When that front door swung wide open
She flung her diamond ring
Said, give it away
Just give it away
And I said, now honey
Don't you even want your half of everything
She said give it away
Just give it away
Just give it away
There ain't nothing in this house worth fightin' over
Oh, we're both tired of fightin' anyway
Just give it away
So, I'm still right here where she left me
Along with all the other things that she don't care about anymore
Hmm
Like that picture from our honeymoon
That night in 'Frisco Bay
She said give it away
Well, I can't give it away
That big four poster king sized bed
Where all our love was made
She said give it away
Well, I can't give it away
I've got furnished house
A diamond ring
And a lonely, broken heart
Full of love
And I can't even give it away