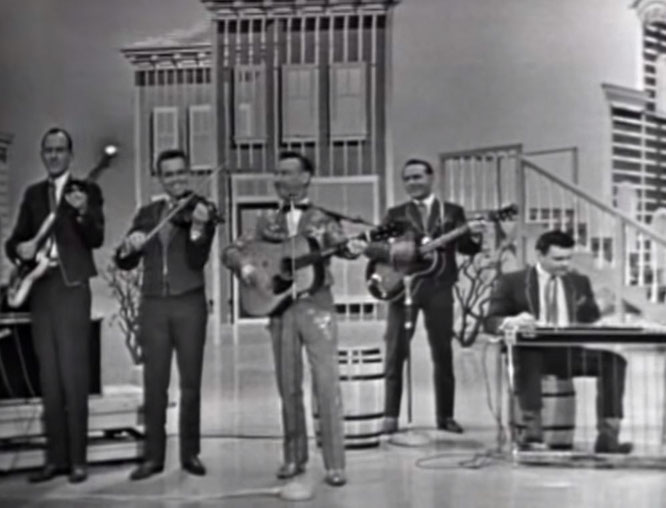 Clarence Eugene "Hank" Snow (May 9, 1914 – December 20, 1999) was a Canadian-American country music artist. In a career that spanned more than 50 years, he recorded 140 albums and charted more than 85 singles on the Billboard country charts from 1950 until 1980. His number-one hits include the self-penned songs "I'm Moving On", "The Golden Rocket" and The Rhumba Boogie and famous versions of "I Don't Hurt Anymore", "Let Me Go, Lover!", "I've Been Everywhere", "Hello Love", as well as other top 10 hits.
Snow was an accomplished songwriter whose clear, baritone voice expressed a wide range of emotions including the joys of freedom and travel as well as the anguish of tortured love. His music was rooted in his beginnings in small-town Nova Scotia where, as a frail, 80-pound youngster, he endured extreme poverty, beatings and psychological abuse as well as physically punishing labour during the Great Depression. Through it all, his musically talented mother provided the emotional support he needed to pursue his dream of becoming a famous entertainer like his idol, the country star, Jimmie Rodgers.
As a performer of traditional country music, Snow won numerous awards and is a member of the Country Music Hall of Fame, the Canadian Country Music Hall of Fame and the Canadian Music Hall of Fame.The Hank Snow Museum in Liverpool, Nova Scotia, celebrates his life and work in a province where his fans still see him as an inspirational figure who triumphed over personal adversity to become one of the most influential artists in all of country music.
Hank Snow - Ninety Miles An Hour Lyrics
I took you home from a party 
And we kissed in fun,
A few stolen kisses and no harm was done.
Instead of stopping when we could, 
We went right on, 
Until suddenly we found 
The brakes were gone.
You belong to someone else and I do too.
It's just too crazy being here with you.
As a bad motorcycle with the devil in the seat,
Doin' 90 miles an hour down a dead end street.
I didn't want to want to now I have no choice.
It's too late to hear the warning voice.
All I hear is thunder as our two hearts beat, 
Doin' 90 miles an hour down a dead end street.
You're not free to belong to me
and you know I can never be your own.
Your lips on mine are like sweet sweet wine,
But we're headed for a wall of stone.
Warning signs are flying by us 
But we pay no heed,
Instead of slowing down the pace 
We keep pickin' up the speed.
Disaster's getting closer every time we meet.
Doin' 90 miles an hour down a dead end street.