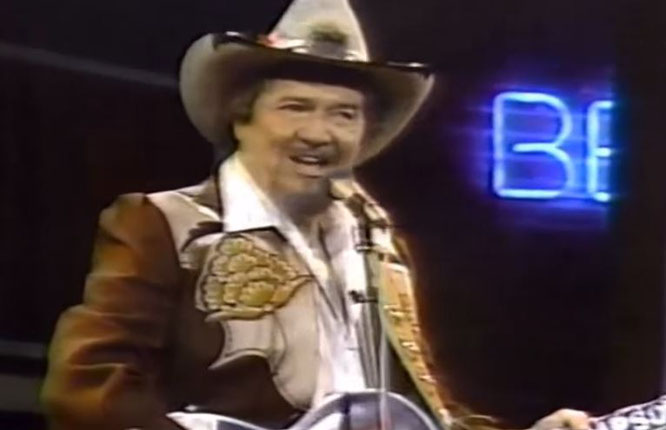 Hank Thompson performs "Honky Tonk Girl ".Live Video.
The song Honky-Tonk Girl was written by Hank Thompson, Chuck Harding and was first recorded and released by Hank Thompson and His Brazos Valley Boys in 1954.
Thompson's musical style, characterized as honky tonk Western swing, was a mixture of fiddles, electric guitar and steel guitar that featured his distinctive, smooth baritone vocals.
Hank Thompson Honky Tonk Girl lyrics
Don't be fooled by big blue eyes
By a smile or a golden curl
For she'll love you now
And then break every vow
'Cause she's just a honky-tonk girl
Don't be fooled by kisses
Or arms that hold you tight
There will be another
In her arms tomorrow night
Hearts to her are toy tops
She likes to watch 'em whirl
'Cause she's just a honky-tonk girl
You can never change her ways
Though you give her all the world
She's got more than one or two
And each day there's someone new
'Cause she's just a honky-tonk girl
Breaking hearts to her
Is just a way of having fun
She thinks every man's a fool
And you're another one
She knows all the arts of love
She'll give your heart a twirl
'Cause she's just a honky-tonk girl
Don't be fooled by kisses
Or arms that hold you tight
There will be another
In her arms tomorrow night
Hearts to her are toy tops
She likes to watch 'em whirl
'Cause she's just a honky-tonk girl