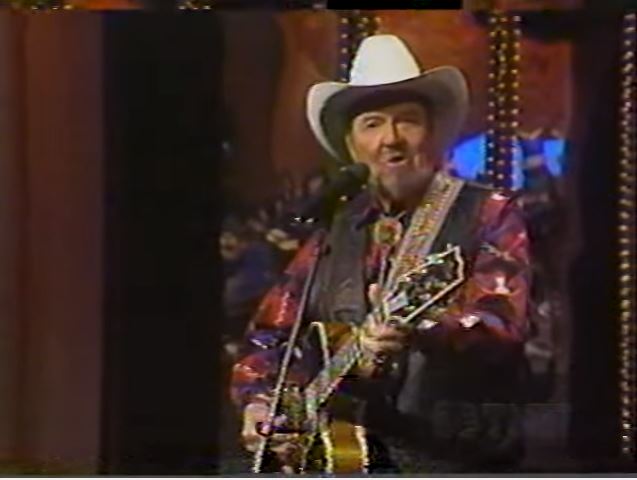 Hank Thompson performs "Oklahoma Hills",live video.
"Oklahoma Hills" is a song written by Woody Guthrie. Members of the Western Writers of America chose it as one of the Top 100 Western songs of all time.In 2001, the Oklahoma Legislature declared it to be the official state folk song.
Jack Guthrie, Woody's cousin, changed the lyrics and music slightly and in 1945 recorded a Western swing version, which reached No. 1 on the Juke Box Folk Records charts.It remains the best-known version of "Oklahoma Hills", and was the biggest hit of Jack Guthrie's fairly short life. Though Woody originated the song, the official Woody Guthrie website credits both him and Jack as its writers, perhaps because Jack's changes have become so well known.
Country singer Hank Thompson, joined by His Brazos Valley Boys, recorded a well-known version of "Oklahoma Hills" in 1961. Thompson's Western swing rendition reached No. 10 on the Billboard magazine Hot C&W Singles chart.
Woody's son, Arlo Guthrie, recorded the song for his album Running Down the Road, released in 1969 by Warner Bros. Records.
Hank Thompson Oklahoma Hills Lyrics
Many months have come and gone since I wandered from my home
In those Oklahoma Hills where I was born
Many a page of life has turned many a lesson I have learned
Yet I feel like in those hills I still belong
Way down yonder in the Indian nation I rode my pony on the reservation
In the Oklahoma Hills where I was born
A-way down yonder in the Indian nation a cowboy's life is my occupation
In the Oklahoma Hills where I born
But as I sit here today many miles I am away
From the place I rode my pony through the draw
Where the Oak and Blackjack trees kiss the playful prairie breeze
In those Oklahoma Hills where I was born
Way down yonder in the Indian nation I rode my pony on the reservation
In the Oklahoma Hills where I was born
A-way down yonder in the Indian nation a cowboy's life is my occupation
In the Oklahoma Hills where I born
As I turn life a page to the land of the great Osage
To those Oklahoma Hills where I was born
Where the black oil rolls and flows and the snow-white cotton grows
In those Oklahoma Hills where I was born
Way down yonder in the Indian nation I rode my pony on the reservation
In the Oklahoma Hills where I was born
A-way down yonder in the Indian nation a cowboy's life is my occupation
In the Oklahoma Hills where I born