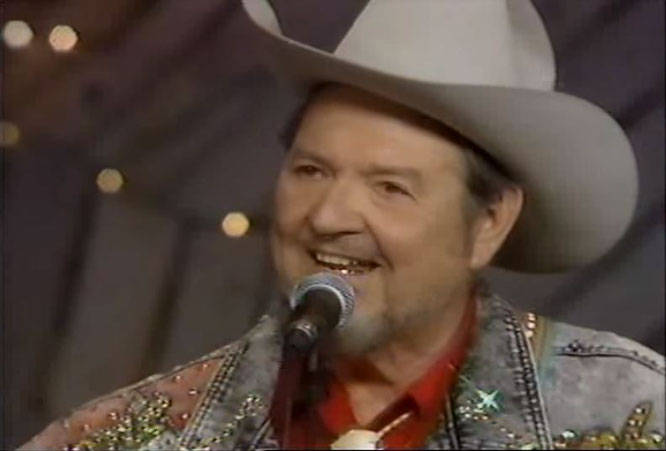 Hank Thompson performs "Squaws Along The Yukon"Live Video.
Henry William Thompson (September 3, 1925 – November 6, 2007) was an American country music entertainer whose career spanned seven decades.
Thompson's musical style, characterized as honky tonk Western swing, was a mixture of fiddles, electric guitar and steel guitar that featured his distinctive, smooth baritone vocals.
His backing band, The Brazos Valley Boys, was voted the top Country Western Band for 14 years in a row by Billboard. The primary difference between his music and that of Bob Wills was that Thompson, who used the swing beat and instrumentation to enhance his vocals, discouraged the intense instrumental soloing from his musicians that Wills encouraged; however, the "Hank Thompson sound" exceeded Bob Wills in Top 40 country hits.
Although not as prominent on the top country charts in later decades, Thompson remained a recording artist and concert draw well into his 80s.
Hank Thompson - Squaws Along The Yukon Lyrics
There's a salmon-colored girl who sets my heart awhirl
Who lives along the Yukon far away
Where the Northern Lights they shine she rubs her nose to mine
She cuddles close and I can hear her say
Ooga ooga mooska which means that I love you
If you'll be my baby I'll ooga ooga mooska you
Then I take her hand in mine and set her on my knee
The squaws along the Yukon are good enough for me
She makes her underwear from hides of grizzly bear
And bathes in ice cold water every day
Her skin I love to touch but I just can't touch it much
Because her fur lined parka's in the way
Ooga ooga mooska...
She has the Air Corps down the Sourdoughs hang around
Chechakos try to date her night and day
With a landing gear that's fine and a fuselage divine
And a smile that you can see a mile away
Ooga ooga mooska...
Carry me back to old Alaska
The squaws along the Yukon are good enough for me