The legend says that it was the last song that Hank Williams sang, and that is how it is explained in the movie, but it was really "Midnight" by Red Foley.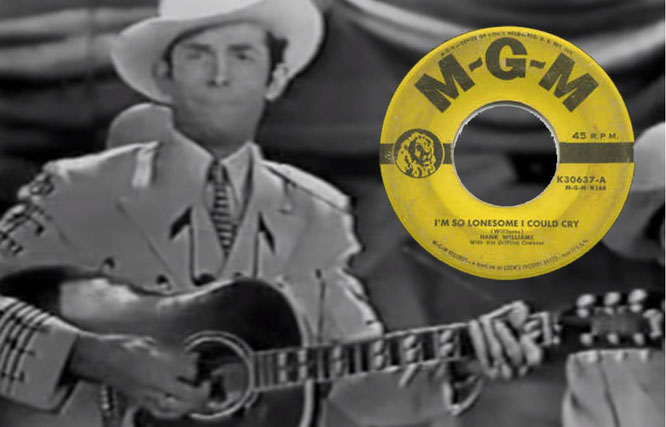 I'm So Lonesome I Could Cry
Story behind the song :
There are times when men create art without ever realizing what they have done. In the case of songwriters, this art is the result of the fragile marriage of words and music. Once in a great while, out of that crystal-like union, comes a message that transcends all musical genres and springs directly into a listener's soul. The song that results is timeless, its meaning just as strong in each successive generation. Using no gimmicks, no play on words, no sophisticated breakthroughs, the piece becomes a simple but profound testament for every man or woman who hears it. As years pass, it remains fresh and haunting. Because it transcends time itself, it's as if the song is suspended in time just waiting to be discovered by each new generation.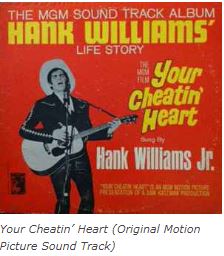 Inspired by waves of emotion that no one seemed to fully understand, Hank Williams created art on several occasions. Using the tragic flavor of his own life, he wove simple words and unadorned music into songs that seemed to have endless layers of substance. He seemed to sense that he had a great deal to say, but very little time in which to say it. Mitch Miller, the noted band leader and long-time A & R director of Columbia Records in New York once observed: "No matter who you are, a country person or a sophisticate, the language of Hank Williams' songwriting hits home. Nobody I have ever known could use basic English so effectively." Much like Edgar Allan Poe, Hank Williams was seemingly possessed by forces which kept pulling him down into the depths of darkness and shadows. It was there, in the hopeless mire of booze and pills, where he sought refuge from demons only he saw and understood. Yet, like Poe, there were moments in Williams' life when he pulled himself up into the sunshine. During these brilliant times, he shared the anguish of his other world in songs. His creations not only proved his genius, but often confirmed his fears.
In 1949, Hank composed a hopeless epic that was to become not just a country classic, but one of the most powerful and emotional songs ever written. No one knew what drove Williams to so eloquently describe the very essence of loneliness, but in simple language he nailed the void like no one ever had or probably ever will. This song, "I'm So Lonesome I Could Cry," was recorded at the second of only two sessions that Hank ever did outside of Nashville, at the Herzog Recording Studio in Cincinnati, Ohio on August 30, 1949. Backing Hank that day were members of Red Foley's former band The Pleasant Valley Boys, consisting of Zeke Turner on lead guitar, Tommy Jackson on fiddle (who later went on to become a member of Nashville's renowned "A Team" group of musicians), Jerry Byrd on steel guitar and Louis Innis on rhythm guitar. Williams' breakthrough hit "Lovesick Blues" had also been recorded at the Herzog studio a few months earlier, on December 22, 1948.
"I'm So Lonesome I Could Cry" is not one of the thirty-nine Hank Williams songs that appeared on the national playlists between 1947 and 1955. While rumor has it that it was the last song he ever sang (the movie "Your Cheatin' Heart" perpetuated this rumor, although in reality Hank's final song was Red Foley's "Midnight"), to country music fans of that generation, "I'm So Lonesome I Could Cry" was an almost forgotten tune. Its magic, its autobiographical symbolism and beauty were all but lost, hidden behind the long list of Hank's hits that dominated the charts at the time. "I'm So Lonesome I Could Cry" was issued as a single, but it was relegated to the "B" side of "My Bucket's Got A Hole In It" which peaked at #2 on Billboard's country chart, ironically blocked from the top spot by "Lovesick Blues" which was continuing its lock on the number one position, holding it for a total of sixteen weeks.
Though picked up and performed by many country acts in the decade after Williams' death, "I'm So Lonesome I Could Cry" did not really gain a great deal of national notice until the song resurfaced as a vital part of the aforementioned 1964 movie "Your Cheatin' Heart," a largely-fictionalized account of Hank Williams' life, with MGM heartthrob George Hamilton portraying Hank (which by most accounts was generally regarded as a bad casting choice by the studio). Hank Williams, Jr. did the movie's soundtrack album but, at only 15, was much too young to play his dad in the film.
Two years later, an unknown Oklahoma-born pop singer recorded "I'm So Lonesome I Could Cry" in the same haunting manner as Hank had. This revived country classic would become the first chart hit for B. J. Thomas, who later would release major hits in the pop, country and gospel genres. The song's ride into the Top Ten of the pop charts via Thomas's record drew a reaction in Nashville. Going back into their vaults, MGM's technicians took Williams' old monaural acetate of "I'm So Lonesome I Could Cry" from 1949, wiped clean the original instrumentation (keeping only Hank's voice), then added a new, modern soundtrack (complete with violins and background singers) and re-issued the song as a single. Although this revitalized version reached only #43 on the Billboard chart, it was deemed successful enough to spawn a four-album series of Hank's classic tunes, re-recorded with new tracks laced with strings. These albums were designed to demonstrate just how timeless Hank Williams' songs are. I liked them a lot but most country music purists overwhelmingly disapproved of the project, deciding that Hank's original recordings shouldn't be tampered with (quite similar to the controversy many years later surrounding the colorization of old black and white movies).
There is evidence to suggest that the song's original, working title was "I'm So Lonesome I Could Die" but that was rumored to have been changed by Fred Rose, Hank's mentor and head of Acuff-Rose Publishing, which handled Williams' catalog. Rose reportedly felt that the original title sent a message which was simply too hopeless. Maybe he was right, but the song's lyrics seemed to fit that first sentiment and Hank's life so very well. Either way, with "I'm So Lonesome I Could Cry," Williams had stepped beyond simple songwriting and created timeless art. – JH  
Miquel Batlle Garriga




mbatllegarriga@gmail.com
Hank Williams – I'm So lonesome I Could Cry Lyrics
Hear that lonesome whippoorwill
He sounds too blue to fly
The midnight train is whining low
I'm so lonesome I could cry
I've never seen a night so long
When time goes crawling by
The moon just went behind the clouds
To hide its face and cry
Did you ever see a robin weep
When leaves began to die?
Like me, he's lost the will to live
I'm so lonesome I could cry
The silence of a falling star
Lights up a purple sky
And as I wonder where you are
I'm so lonesome I could cry