It reached # 3 on the US Hot Country Songs charts, remaining a total of 16 weeks on the charts. On the Canadian RPM charts Country tracks, reached number # 2. The song was included in Hank Jr.'s twenty-first studio album, After You, Pride's Not Hard to Swallow (MGM 1973)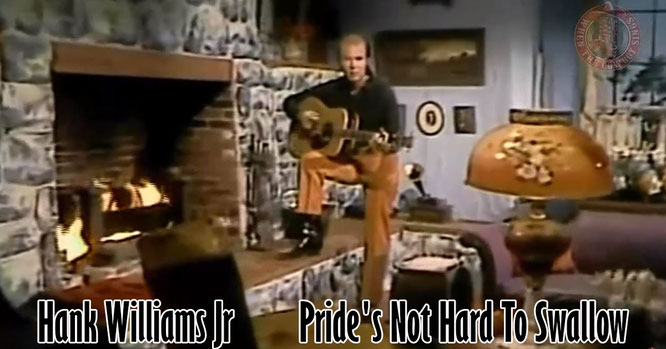 Pride's Not Hard To Swallow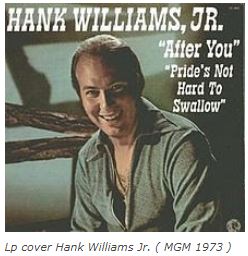 "Pride's Not Hard to Swallow" a song written by Jerry Chesnut, was recorded by Hank Williams Jr. for the MGM label on January 26, 1972, in Nasville, TN. In the same recording session two other songs were recorded: "divorce or destroy" and "just like me". With the production of Jim Vienneau, the song was released in August 1972, on November 18 it reached # 3 on the US Hot Country Songs charts, remaining a total of 16 weeks on the charts. On the Canadian RPM charts Country tracks, reached number # 2.
The song was included in Hank Jr.'s twenty-first studio album, After You, Pride's Not Hard to Swallow (MGM 1973), the album was released in March 1973, on May 26, 1973, reached # 20 on the charts of US Top Country Albums.
Miquel Batlle Garriga




mbatllegarriga@gmail.com
Hank Williams Jr - Pride's Not Hard To Swallow Lyrics
I wish you'd look who's crawling back to you I never thought I'd live to see today
I swore to you the day I left this time I'd go for good
And I was even proud enough to tell myself I could
But it took a lot of lonely nights to ever change my mind
It took a lot of missing youth and things that I'd left behind
Intending to keep going but the going it got too rough
And pride's not hard to swallow once you chewed it long enough
I know we won't always see eye to eye
But if you'll take me back this time I'll really try
So many things I could have done so much I failed to do
I've never needed anyone as much as I need you
And it took a lot of lonely nights...