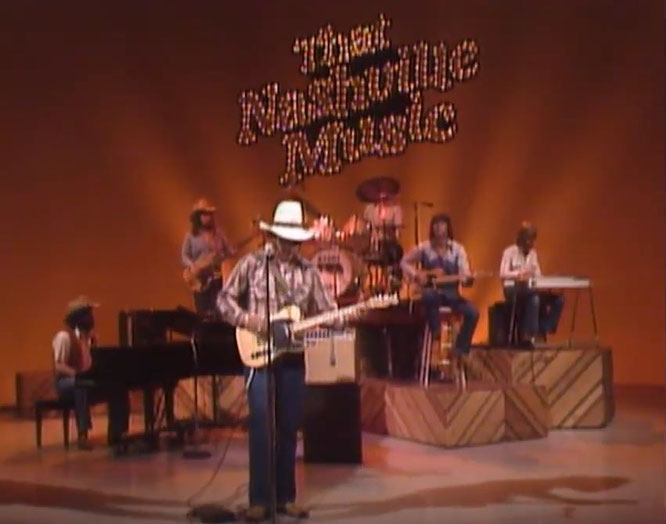 Hank Williams Jr performs "Kaw-Liga" Live on That Nashville Music.
"Kaw-Liga" is one of just a handful of songs that Williams wrote with Fred Rose, who produced his records and published his songs through his company Acuff-Rose. Rose often "doctored" the songs Hank composed, making suggestions and revisions, with biographer Roger M. Williams noting that Rose's contribution to Hank's songs was probably craftsmanship, whereas Williams' was genius. Roy Acuff later recalled:
"Hank would come up with the ideas, and Fred would say, 'Well, write it down and let me look at it.' Hank'd bring it to Fred, and Fred would sit at the piano and compliment Hank and say, "Maybe you can express this a little differently, let's change it a little bit,' but Fred never changed Hank's thinking."
Kowaliga is a community in central Alabama on Lake Martin. Named after a legendary Indian for which a wooden statue was later placed near the lake, the song was written by Hank when he was staying at a lakeside cabin that he owned and still stands today.
Hank Williams Kaw-Liga lyrics
Kaw-liga was a wooden Indian standing by the door.
He fell in love with an Indian maiden over in the antique store. 
Kaw-liga just stood there and never let it show, 
So she could never answer "yes" or "no."
Poor ol' Kaw-liga, he never got a kiss.
Poor ol' Kaw-liga, he don't know what he missed. 
Is it any wonder that his face is red? 
Kaw-liga, that poor ol' wooden head.
He always wore his Sunday feathers and held a tomahawk. 
The maiden wore her beads and braids and hoped some day he'd talk.
Kaw-liga, too stubborn to ever show a sign, 
Because his heart was made of knotty pine.
Kaw-liga was a lonely Indian, never went nowhere. 
His heart was set on the Indian maid with the coal black hair.
Kaw-liga just stood there and never let it show, 
So she could never answer "yes" or "no."
And then one day a wealthy customer bought the Indian maid, 
And took her, oh, so far away, but ol' Kaw-liga stayed. 
Kaw-liga just stands there as lonely as can be, 
And wishes he was still an old pine tree.