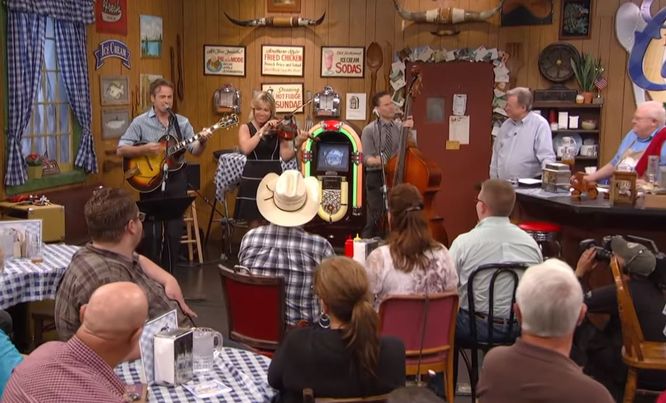 "Ida Red" is an American traditional song of unknown origins that was made famous in the upbeat 1938 version by Bob Wills and his Texas Playboys. Wills' Ida Red served as the primary inspiration for Chuck Berry's first big hit Maybellene. It is chiefly identified by variations of the chorus:
Ida Red, Ida Red, I'm a plumb fool 'bout Ida Red.
Verses are unrelated, rather humorous, and free form, changing from performance to performance. Ida Red's identity is unknown, but is feminine in most uses.
The earliest recording is a one by Fiddlin' Powers & Family (Victor 19434, 1924), which includes vocals. There is also an early well-known instrumental by Dykes Magic City Trio, (Brunswick 125, 1927).
Like his father and grandfather, Wills, renowned in parts of Texas for his fiddling talents before he formed the Texas Playboys, would have learned this tune in his earliest days of fiddling.
Ida Red, the personage, appears in a number of other songs only distantly related to the song "Ida Red".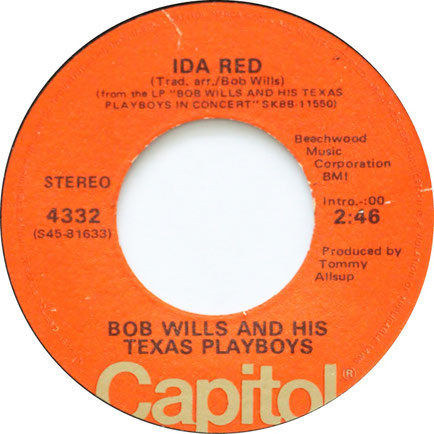 Bob Wills Ida Red Lyrics
Lights in the parlor fires in the grate
Clock on the mantle says its getting late
Curtains on the window snowy white
The parlors pleasant on Sunday night
Ida Red Ida Red 
I'm a plumb fool bout Ida Red
Lamp on the table picture on the wall
There's a pretty sofa and that's not all
If I'm not mistaken and I'm sure I'm right
There's somebody else in the parlor tonight
Chicken in the bread bin pecking out dough
Granny will ya dog bite no child no
Hurry up boys and don't fool around 
Grab your partner and truck on down
Lights a burning dim fire's a getting low
Somebody says its time to go
I hear the whisper gentle and light 
Don't forget to come next Sunday night
My old Missus swore to me
When she died shed set me free
She lived so long her head got bald 
She took a notion not to die at all