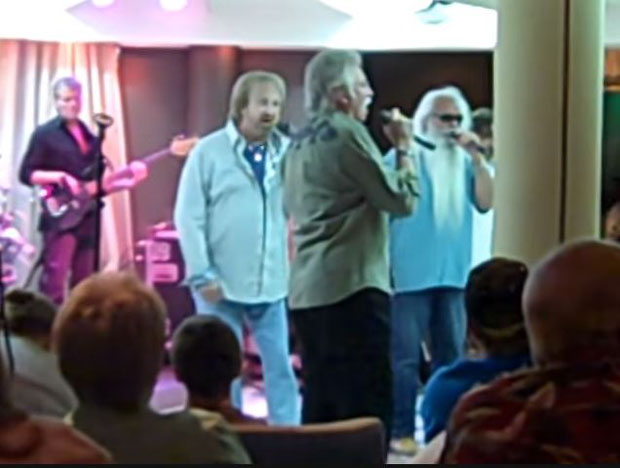 "I Wish You Could Have Turned My Head (And Left My Heart Alone)" is a song written by Sonny Throckmorton. He was also the first artist to release it, doing so on Last Cheater's Waltz in 1978. His version went to number 54 on the country music charts that year.
Conway Twitty recorded the song for his 1979 Cross Winds album, although it was not released as a single.
The Oak Ridge Boys released the song in July 1982 as the second single from their album Bobbie Sue. This version went to number two on the same chart.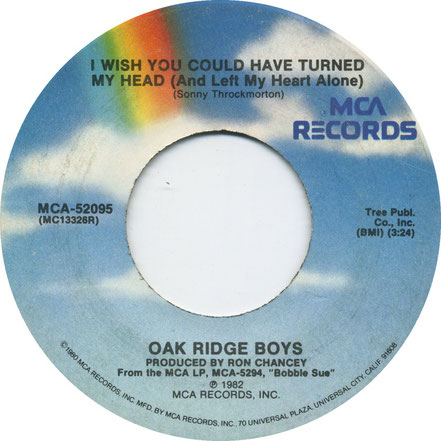 I Wish You Could Have Turned My Head (And Left My Heart Alone)
I wish you could have turned my head and left my heart alone
Ever since I met you, baby, you have done me wrong
You walk by and you shake that thing and you know I'm not that strong
I wish you could have turned my head and left my heart alone
I wish you could have turned my head and left my heart alone
Ever since I met you, baby, you have done me wrong
You walk by and you shake that thing and you know I'm not that strong
I wish you could have turned my head and left my heart alone
The first time I laid eyes on, you got caught up in your sway
I thought I didn't have a chance and then you looked my way
From the longin' to the lovin', girl, we've made it all the way
But for all the hunger in my eyes my heart has had to pay
I wish you could have turned my head and left my heart alone
Ever since I met you, baby, you have done me wrong
You walk by and you shake that thing and you know I'm not that strong
I wish you could have turned my head and left my heart alone
I wish you could have turned my head and left my heart alone
Ever since I met you, baby, you have done me wrong
You walk by and you shake that thing and you know I'm not that strong
I wish you could have turned my head and left my heart alone
I wish you could have turned my head and left my heart alone
Ever since I met you, baby, you have done me wrong
You walk by and you shake that thing and you know I'm not that strong
I wish you could have turned my head and left my heart alone
I wish you could have turned my head and left my heart alone
Ever since I met you, baby, you have done me wrong
You walk by and you shake that thing and you know I'm not that strong
I wish you could have turned my head and left my heart alone
Well, I wish you could have turned my head and left my heart alone
Ever since I met you, baby, you have done me wrong