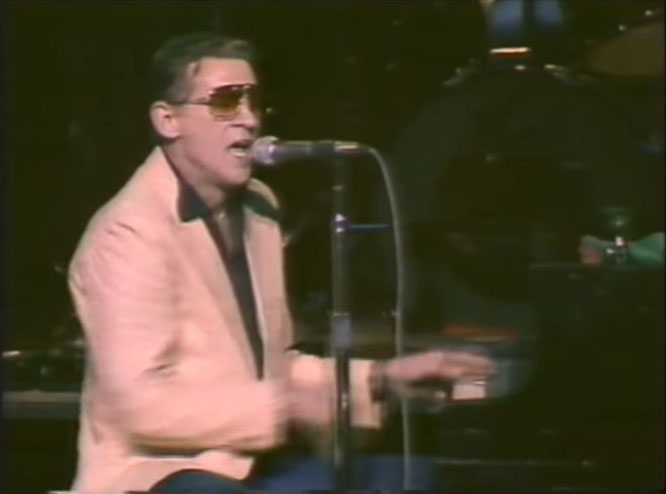 Jerry Lee Lewis performs "Chantilly Lace"live Video.
"Chantilly Lace" is the name of a rock and roll song written by Jerry Foster, Bill Rice, and Jiles Perry "The Big Bopper" Richardson, the last of whom released the song in August 1958. The single was produced by Jerry Kennedy.
A 1972 version by Jerry Lee Lewis was for three weeks a No.1 hit on the Billboard Hot Country Singles chart and a top fifty pop hit in the US and a Top 40 pop hit in the UK.
Jerry Lee Lewis - Chantilly Lace Lyrics
Chantilly lace and a pretty face and a pony tail hangin' down
A wiggle and a walk and a giggle and a talk made the world go round
Ain't nothing in the world
Like a big eyed girl to make me act so funny make me spend my money
I feel real loose like a long necked goose
Like a whoa baby, that's what I like
Chantilly lace and a pretty face and a pony tail hangin' down
A wiggle and a walk and a giggle and a talk made the world go round
Ain't nothing in the world
Like a big eyed girl to make me act so funny make me spend my money
Make me fool real loose like a long necked goose
Like a whoa baby that's what I like
Chantilly lace pretty face pony tail hangin' down
A wiggle in her walk giggle in her talk it gonna make that world go around
Ain't nothing in the world like a big- eyed girl
Make me act so funny spend my doggone money
I feel real loose like a long neck goose like a whoa baby that's what I like
Chantilly lace pretty face pony tail hangin' down
A wiggle in her walk giggle in her talk it gonna make that world go around
Ain't nothing in the world like a big- eyed girl
Make me act so funny spend my doggone money
I feel real loose like a long neck goose like a whoa baby that's what I like