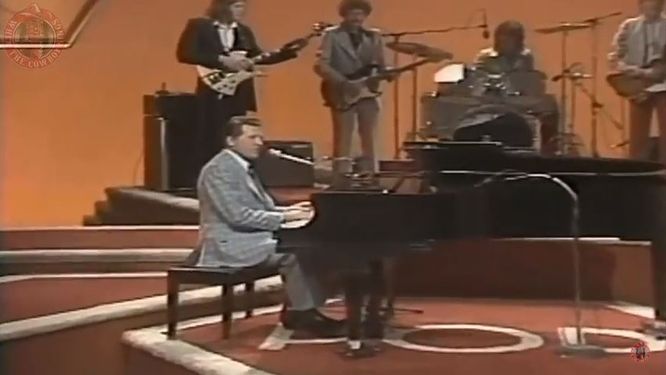 The Lewis version backed his late '71 single, "Would You Take Another Chance on Me," which topped the country chart in January 1972.
"Me and Bobby McGee" is a song written by Kris Kristofferson and Fred Foster, originally performed by Roger Miller. Others performed the song later, including Grateful Dead, Kristofferson himself,Kenny Rogers and The First Edition, Gordon Lightfoot, Miranda Lambert, and most famously Janis Joplin.
The song is the story of two drifters, the narrator and his girlfriend Bobby McGee. The couple hitch a ride from a truck driver and sing as they drive through the American south. They visit California and then part ways, with the song's narrator expressing his sadness after her departure.
Jerry Lee Lewis Me and Bobby McGee Lyrics
(One two one two three four)
Well busted flat in Baton Rouge a headin' for the trains
Feelin' nearly faded as my jeans
Ol' Bobby thumbed a diesel down just before it rained
Lord took us all the way to New Orleans
Pulled my ol' har'poon out of my dirty red bandana
Blowed it low while Bobby sang the blues
With them windshield whipers slappin' time
And Bobby clappin' hands with mine
We finally sang up ever song that driver knew
Freedom's just another word for nothin' left to lose
And nothin' ain't worth nothin' but it's free
Feeling good was easy Lord when Bobby sang the blues
Lord that was good enough for me yeah good enough for me and Bobby McGee
From the coal mines of Kentucky to the California sun
Bobby shared the secrets of my soul
She was standin' right beside me Lord through everything I done
And every night she kept me from the cold
Then somewhere near Salinas Lord I let her slip away
Looking for the home I hope she'll find
And I'd trade all of my tomorrows for a single yesterday
Holding her body close to mine
Freedom's just another word for nothin' left to lose
And nothin' ain't worth nothin' but it's free
Feeling good was easy Lord when Bobby sang the blues
Lord that was good enough for me yeah good enough for me and Bobby McGee
Yeah (la la la la...)