Reached number 2 on the U.S Hot Country Songs charts, remaining a total of 16 weeks. On August 19, 1968, it also peaked at # 1 on the Canadian RPM Country Tracks charts. The song was included on Jerry Lee Lewis' eighth studio album, Another Place, Another Time (Smash Records 1968)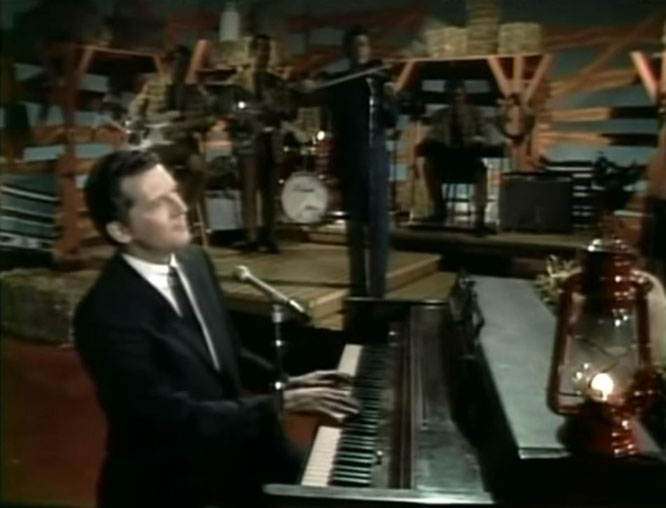 What's Made Milwaukee Famous (Has Made A Loser Out Of Me)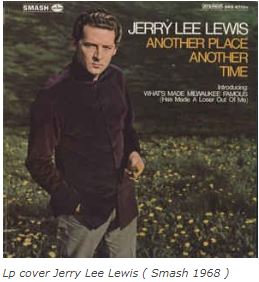 "What's Made Milwaukee Famous (Has Made a Loser Out of Me)", song written by Glenn Sutton, was recorded by Jerry Lee Lewis for the Smash Records label on April 16, 1968, at Columbia Recording Studio B, 804 16th Ave South, Nashville 3, TN. Three other songs were recorded at the same session: "All night long", "We live in two different worlds" and "On the back row". At the recording session Jerry was accompanied by: Linda Gail Lewis, Jerry Kennedy, Chip Young, Pete Wade, Lloyd Green, Bob Moore, Joseph Zinkan, Kenneth Buttrey, Kenneth lovelace and vocal chorus. With the production of Jerry Kennedy, the song was released, in May 1968, on July 27, 1968, reached number 2 on the U.S Hot Country Songs charts, remaining a total of 16 weeks. On August 19, 1968, it also peaked at # 1 on the Canadian RPM Country Tracks charts.
The song was included on Jerry Lee Lewis' eighth studio album, Another Place, Another Time (Smash Records 1968), the album was released in April 1968, reaching # 3 on the US Top Country Albums charts, the August 17, 1968, and remained on the charts for a total of 35 weeks.
Rod Stewart, made a version of the song, in 1972, which reached number 4 on the U.K charts, the song was included in album, Never a Dull Moment (Mercury 1972).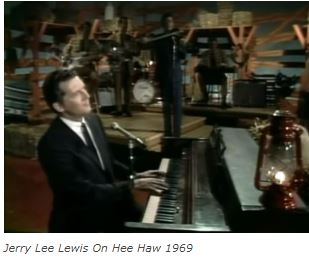 It was beer that made Milwaukee's industrial port in Wisconsin famous.The song was a hit with writer Glenn Sutton (September 28, 1937, Hodge, Louisiana), who sadly died on April 17, 2007 (aged 69) Nashville, Tennessee.  In 1968 Sutton worked as a staff producer at Columbia. A burgeoning composer, he had also hired a music editor, Al Gallico, and was asked to submit some material for Jerry Lee Lewis. In the mid-1960s, the legendary wild rock man, dubbed "the killer," had been persuaded by his producer, Jerry Kennedy, to switch styles to the more commercial country and western sound. Sutton delayed the commission and was put on the spot when he received a call from Gallico. A song was needed for a Lewis session the next day and Gallico wanted to know what he had accomplished.
Sutton had nothing prepared, but he didn't want to lose his job. He glanced at a piece of paper on his desk. There was an ad for Schlitz, "the beer that made Milwaukee famous." "I just told Al it's a song to drink," Sutton told author Mick Brown. "I've written a lot of drinking songs before, but I've never thought about it." Schlitz was one of several breweries, mostly established by German and Polish immigrants, that had emerged in Milwaukee since the 19th century. His motto made a great title, particularly as a country number. Sutton burned the midnight oil and "What made Milwaukee famous?"
His turn was in the caption. Beer may have put Milwaukee on the map, but it had put the protagonist of the song on the skates. However, he appealed to the Assassin's instinct, and cut it off the day after it was written. Walking around a rolling piano, and sweetened by a whiny violin accompaniment, he rose to the Billboard Country chart and opened Lewis' album Another Place, Another Time.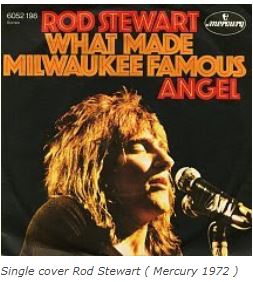 Some Versions:
Johnny Bush 1968 (Stop Records)
Liz Anderson 1969 (RCA)
Bobby Barnett 1969 (Columbia)
Hank Thompson 1969 (Dot Records)
Lynn Anderson 1971 (Columbia)
Rod Stewart 1972 (Mercury)
Del McCoury 1993 (Rounder)
Eric Church 2018 (EMI Records Nashville)
Miquel Batlle Garriga




mbatllegarriga@gmail.com
Jerry Lee Lewis - What's Made Milwaukee Famous Lyrics
It's late and she's waiting
And I know I should go home
But ev'ry time I start to leave
They play another song
Then someone buys another round
And with every drink or three
What Made Milwaukee Famous
Has made a fool out of me
Baby's begged me not to go
So many times before
She said love and happiness
Can't live behind those swinging doors
Now she's gone and I'm to blame
Too late, I finally see
What's Made Milwaukee Famous
Has made a fool out of me
Baby's begged me not to go
So many times before
She said love and happiness
Can't live behind those swinging doors
Now she's gone and I'm to blame
Too late, I finally see
What's Made Milwaukee Famous
Has made a fool out of me