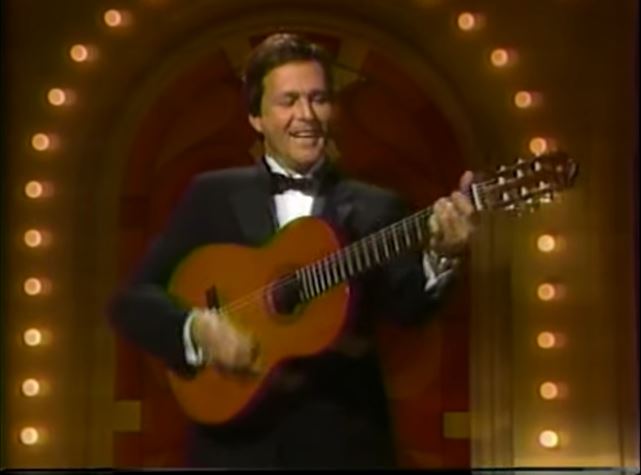 "Spiders & Snakes" is a 1974 hit song recorded by Jim Stafford and written by Stafford and David Bellamy. It was the second of four U.S. Top 40 singles released from his eponymous debut album and also the highest-charting.
The song is about a boy who, although he is shy, has a girl who likes him named Mary Lou. He makes faltering attempts to respond to her when they are alone, which finally include trying to give her a frog. She promptly protests and summarily rebuffs him. Still in school, they later develop a more mature relationship with the boy as the initiator instead of Mary Lou, but when they are once again alone she nonetheless feels the need to remind him, still nervous, that she does "not" like spiders and snakes, or any other such similar creatures, and that it takes something else to satisfy her loving desires.
"Spiders and Snakes" was one of the top hits of 1974, spending one week at number three on the US Billboard Hot 100. In Canada, the song reached number one.The song spent five and a half months on the US charts, sold over one million copies, and was awarded a gold disc by the RIAA on March 8, 1974
Jim Stafford - Spiders & Snakes lyrics
I remember when Mary Lou said
'You want to walk me home from school'
And I said, 'Yes, I do'
She said, 'I don't have to go right home
And I'm the kind that likes to be alone
As long as you would'
I said, 'Me, too'
And so we took a stroll
Wound up down by the swimmin' hole
And she said, 'Do what you want to do'
I got silly and I found a frog
In the water by a hollow log
And I shook it at her
And I said 'This frog's for you'
She said
'I don't like spiders and snakes
And that ain't what it takes to love me
You fool, you fool
I don't like spiders and snakes
And that ain't what it takes to love me
Like I want to be loved by you'
Well, I think of that girl from time to time
I call her up when I got a dime
I say, "Hello, baby'
She says, 'Ain't you cool'
I say, 'Do you remember when?
And would you like to get together again?'
She says, 'I'll see you after school'
I was shy and so for a while
Most of my love was touch and smile
'Til she said, 'Come on over here'
I was nervous as you might guess
Still looking for somethin' to slip down her dress
And she said, 'Let's make it perfectly clear'
She said