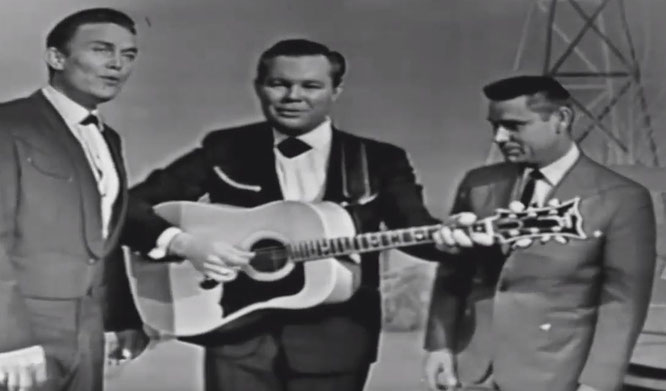 Jimmy Dean,Billy Grammer And George Jones performs "Blues Stay Away From Me"on The Jimmy Dean Show.
Song of The Delmore Brothers.
Their best-known song, "Blues Stay Away From Me" (also on King, 1949), was covered by Johnny Burnette and The Rock and Roll Trio, Gene Vincent and the Blue Caps, The Louvin Brothers, The Browns, Les Paul and Mary Ford, Doc Watson, The Notting Hillbillies and The Everly Brothers.
Delmore Brothers Blues Stay Away From Me Lyrics
Blues stay away from me
Blues why don't you let me be
I don't know why you keep on haunting me
Love was never meant for me
True love was never meant for me
It seems somehow we never can agree
[Harmonica bridge]
Life is full of misery
Dreams are like a memory
Bringing back your love that used to be
Tears so many I can't see
Years don't mean a thing to me
Time goes by and still I can't be free