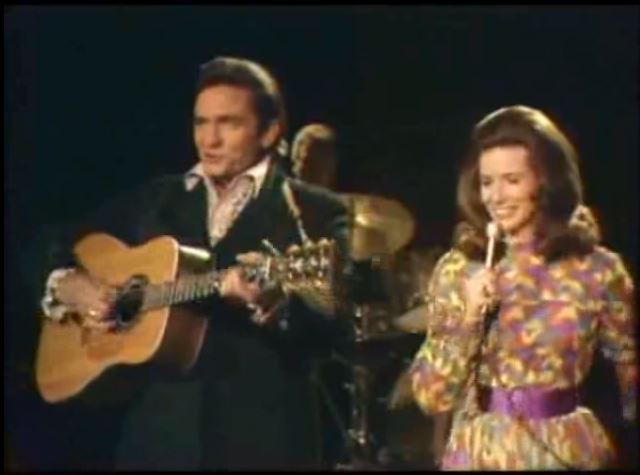 Johnny Cash And June Carter performs "Long-Legged Guitar Pickin' Man"
Carryin' On with Johnny Cash and June Carter is an album by Johnny Cash and June Carter released in 1967 (see 1967 in music), on Columbia Records. The album consists exclusively of duets by Cash and Carter, including "Jackson"; "Long Legged Guitar Pickin' Man" (written by Cash's bass player, Marshall Grant) was also released as a single. One track, a cover of Bob Dylan's "It Ain't Me, Babe", dated back to 1964 and had previously been released on Cash's 1965 album, Orange Blossom Special.
Cash and Carter married seven months after the album was released (with Carter subsequently changing her professional name to June Carter Cash), and the couple performed "Jackson" at numerous venues throughout the years. The album was re-issued on March 19, 2002, through Legacy Recordings, with two additional tracks.
Johnny & June Cash - Long-Legged Guitar Pickin' Man lyrics
Well I'm gonna start out walkin' 
Just you wait and see 
Uh-huh guitar picker 
You ain't leavin' without me 
Oh you big mouth woman 
You long legged guitar pickin' man 
But we can work this out uh huh 
Yes ma'm I think we can 
Well I stole the Hope diamond 
Hopin' I could shut your mouth 
But how am I gonna wear it 
If I got to hide it out 
Well you big mouth woman 
You long legged guitar pickin' man 
But we can work this out uh huh 
Yes ma'm I think we can 
Well I bought you a first class ticket 
For a luxury liner cruise 
I got out in that ocean 
looked around and there was you 
Oh you big mouth woman 
You long legged guitar pickin' man 
But we can work this out uh huh 
Yes ma'm I think we can 
I bought you a big long limousine 
But I don't want no car 
I gave my love and everything 
But you're still what you are 
You're just a big mouth woman 
You long legged guitar pickin' man 
But we can work this out uh huh 
Yes ma'm I think we can 
Oh honey I love that big sweet mouth 
You a long legged guitar pickin' man 
Ha ha I'm gonna pick it for you 
Now you a nice guitar pickin' man