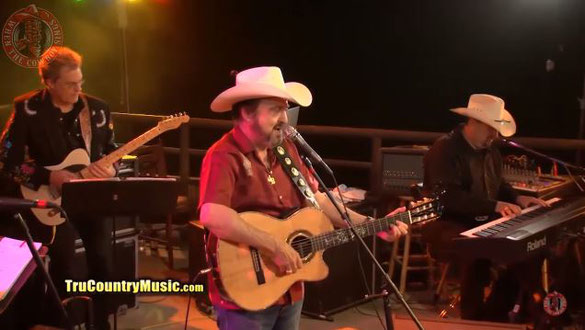 TruCountry: Johnny Bush "Whiskey River "Live on TruCountry Show.
"Whiskey River" is a song co-written and recorded by American country music singer Johnny Bush. He released the song in 1972 through RCA Victor and included it on his album Whiskey River. Bush later re-recorded the song in 1981 and released it through the Delta label, with "When My Conscience Hurts the Most" on the b-side
TruCountry is a half-hour show featuring singers and songwriters from the traditional genre of country music.
A singer/songwriter in her own right and producer of the TruCounty show Heather Myles says, "America has spoken! People are tired of what they are seeing on TV and hearing on the radio that doesn't even resemble real country music! I was raised on a ranch in Southern California and miss the kind of shows my brother and I grew up on... I like to think of TruCountry as a Lawrence Welk Show with a country flair! It's great family entertainment for all ages. Our music speaks to the working class... It's pure and it comes from the heart… it's the real deal. And best of all It's America's Music".
 Johnny Bush Whiskey River lyrycs
Whiskey River, take my mind
Don't let her memory torture me
Whiskey River, don't run dry
You're all I got, take care of me
Whiskey River, take my mind
Don't let her memory torture me
Whiskey River, don't run dry
You're all I got, take care of me
I'm drowning in a Whiskey River
Bathin' my memory's mind in the wetness of its soul
Feeling the amber current flowing from my mind
To a warm and empty heart you left so cold
Whiskey River, take my mind (whiskey river take my mind)
Don't let her memory torture me (don't let her memory torture me)
Whiskey River, don't run dry
You're all I got, take care of me
Oh
Whiskey River, take my mind
Don't let her memory torture me
Whiskey River, don't run dry
You're all I got, take care of me
Whiskey River, take my mind
Don't let her memory torture me
Whiskey River, don't run dry
You're all I got, take care of me
Oh
Whiskey River, take my mind
Don't let her memory torture me
Whiskey River, don't run dry
You're all I got, take care of me
Whiskey River, take my mind
Don't let her memory torture me
Whiskey River, don't run dry
You're all I got, take care of me