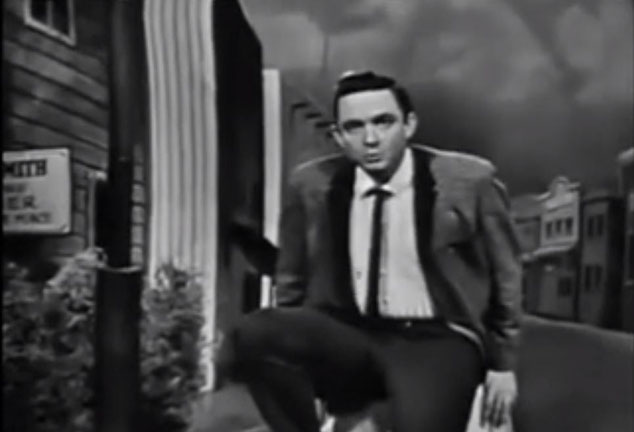 Johnny Cash performs "The Rebel Johnny Yuma"Live Video.
The Rebel is a 76-episode American western television series starring Nick Adams that debuted on the ABC network from 1959 to 1961. The Rebel was one of the few Goodson-Todman Productions outside of their game show ventures. Beginning in December 2011, The Rebel reruns began to air Saturday mornings on Me-TV
The show's theme song, "The Rebel" alias "The Ballad of Johnny Yuma", was composed by Richard Markowitz, with lyrics by Andrew J. Fenady. Members of the Western Writers of America chose it as one of the Top 100 Western songs of all time.It was recorded by Johnny Cash, but it was not released as a single until April 1961, in June, shortly before the show went off the air. Nick Adams recorded the theme, which was released on Mercury Records (#71607) by March 1960. During syndication, the theme song was replaced by the DeWolfe Music Library instrumental track "Dodge City" by Jack Trombey.
Johnny Cash The Rebel - Johnny Yuma Lyrics
Away, away, away rolled the rebel Johnny Yuma
Johnny Yuma was a rebel
He roamed through the west
And Johnny Yuma, the rebel
He wandered alone
He got fightin' mad
This rebel lad
He packed no star
As he wandered far
Where the only law
Was a hook and a draw
The rebel, Johnny Yuma (Away, away, away rode the rebel Johnny Yuma)
Johnny Yuma was a rebel
He roamed through the west
Johnny Yuma, the rebel
He wandered alone
He searched the land
This restless lad
He was panther quick
And leather tough
'Cause he figured that
He had been pushed enough
The rebel, Johnny Yuma (Away, away, away rode the rebel Johnny Yuma)
Johnny Yuma
Johnny Yuma was a rebel
He roamed through the west
Johnny Yuma, the rebel
He wandered alone
Fightin' mad
This rebel lad
With a dream he'd hold
'Til his dyin' breath
He'd search his soul
And gamble with death
The rebel, Johnny Yuma (Away, away, away rode the rebel Johnny Yuma)
Johnny Yuma