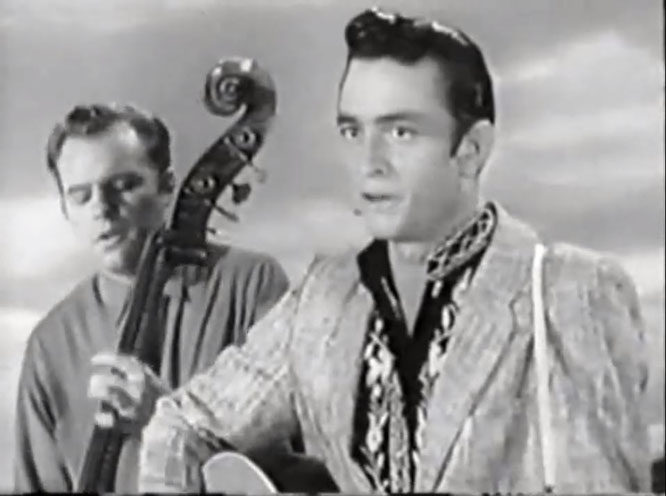 Johnny Cash performs "Train Of Love"Live Video.
Song from album Sings the Songs That Made Him Famous
Johnny Cash Sings the Songs That Made Him Famous is the second studio album by American singer-songwriter Johnny Cash. It was originally released on 13 November 1958, but later re-issued in 2003, under the label Varèse Sarabande, with four different versions of tracks already present on the original LP as a bonus. The complete contents of the album are also incorporated into an extended version of the previous collection With His Hot and Blue Guitar included in the 2012 box set Johnny Cash: The Complete Columbia Album Collection.
Johnny Cash - Train Of Love Lyrics
Train of love's a coming big black wheels a humming
People waiting at the station happy hearts a drumming
Trainman tell me maybe ain't you got my baby
Ever so often everybody's baby gets the urge to roam
But everybody's baby but mine's coming home
Now stop your whistle blowing 'cause I've got ways of knowing
Your bringing other people's lovers but my own keeps going
Train of love this evening when she's not gone she's leaving
Ever so often everybody's baby gets the urge to roam
But everybody's baby but mine's coming home
Train of love now hasting sweet hearts standing waiting
Here and there and everywhere there gonna be embracing
Trainman tell me maybe ain't you got my baby
Ever so often everybody's baby gets the urge to roam
But everybody's baby but mine's coming home
Train of loves a leaving, leaving my heart grieving
But early and late I'll set and wait because I'm still believing
We'll walk away together though' I may wait forever
Ever so often everybody's baby gets the urge to roam
But everybody's baby but mine's coming home