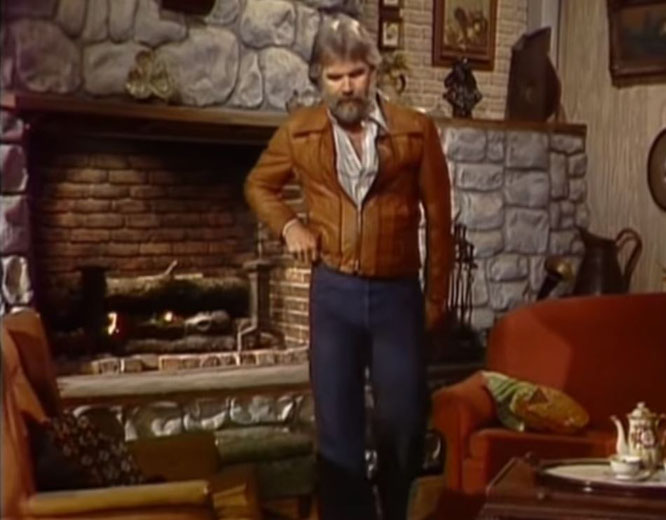 "Lucille" is a song written by Roger Bowling and Hal Bynum, and recorded by American country music artist Kenny Rogers. It was released in January 1977 as the second and final single from the album Kenny Rogers. It became Rogers' first major hit as a solo artist after leaving the successful country/rock group The First Edition the previous year. An international hit, it reached number 1 on the Billboard Country Singles chart and number 5 on the Billboard Hot 100. Overseas, "Lucille" reached the top of the UK Singles Chart in June 1977,the first of Rogers' two number one singles there.
The song, told by the narrator (Rogers), tells the story of a man in a bar in Toledo, Ohio, who acquaints himself with a downhearted married woman named Lucille. An inebriated Lucille admits her unhappiness in life and a longing for adventure. Her husband arrives and approaches her and the intimidated narrator. The brokenhearted husband, starting to shake, scorns her for her inconvenient timing in abandoning him "with four hungry children and a crop in the field," leaving him with a "hurtin'" that refuses to heal. After the husband leaves, Lucille and the narrator make their way to a hotel room. The beautiful woman comes to the narrator, but is blindsided by his odd, sudden change of heart. In his mind, he recalls the recurring haunting words of her husband and feels unable to respond to her advances.
Kenny Rogers - Lucille Lyrics
In a bar in toledo across from the depot on a
Bar stool she took off her ring
I thought I'd get closer so I walked on over I
Sat down and asked her name
When the drinks finally hit her she said I'm no
Quitter but I finally quit livin on dreams
I'm hungry for laughter and here ever after I'm
After what-ever the other life brings
In the mirror I saw him and I closely watched him I
Thought how he looked out of place
He came to the woman who sat there be-side me he
Had a strange look on his face
The big hands were calloused he looked like a
Mountain for a minute I thought I was dead
But he started shaking his big heart was
Breaking he turned to the woman and said
You picked a fine time to leave me lu-cille
With four hungry children and a crop in the field
I've had some bad times lived through some sad times but
This time your hurting won't heal
You picked a fine time to leave me lu-cille.
After he left us I ordered more whisky I thought how she'd
Made him look small
From the lights of the bar room to a rented ho-tel room we
Walked without talking at all
She was a beauty but when she came to me she
Must have thought I'd lost my mind
I couldn't hold her 'cos the words that told her kept
Coming back time after time