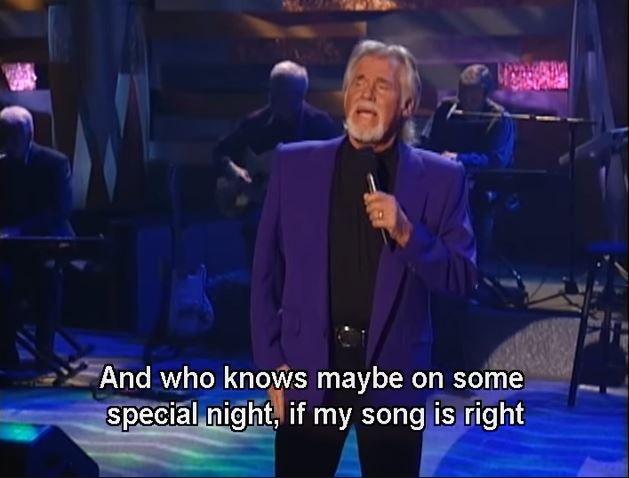 Kenny Rogers performs "She Believes In Me"
"She Believes In Me" is a song recorded by American country music singer Kenny Rogers. It was released in April 1979 as the second single from his album The Gambler. The song was written and first recorded by Steve Gibb (not the Steve Gibb who is the son of Barry Gibb) and is the tale of a songwriter who has a beloved who supports him, although he sometimes wonders why.
Rogers was reaching the peak of his career at this time, and "She Believes In Me" became one of his biggest crossover hits in the late spring of 1979, reaching number one on the Billboard Country Singles chart. "She Believes in Me" also peaked at number five on the Billboard Hot 100 pop singles chart, and number one on the Billboard Adult Contemporary chart. It was also a minor pop hit in Great Britain reaching number 42.
Kenny Rogers – She Believes In Me Lyrics
While she lays sleeping, I stay out late at night and play my songs
And sometimes all the nights can be so long
And it's good when I finally make it home, all alone
While she lays dreaming, I try to get undressed without the light
And quietly she says how was your night?
And I come to her and say, it was all right, and I hold her tight
And she believes in me, I'll never know just what she sees in me
I told her someday if she was my girl, I could change the world
With my little songs, I was wrong
But she has faith in me, and so I go on trying faithfully
And who knows maybe on some special night, if my song is right
I will find a way, find a way...
While she lays waiting, I stumble to the kitchen for a bite
Then I see my old guitar in the night
Just waiting for me like a secret friend, and there's no end
While she lays crying, I fumble with a melody or two
And I'm torn between the things that I should do
And she says to wake her up when I am through
God her love is true...
And she believes in me, I'll never know just what she sees in me
I told her someday if she was my girl, I could change the world
With my little songs, I was wrong
But she has faith in me, and so I go on trying faithfully
And who knows maybe on some special night, if my song is right
I will find a way, while she waits... while she waits for me