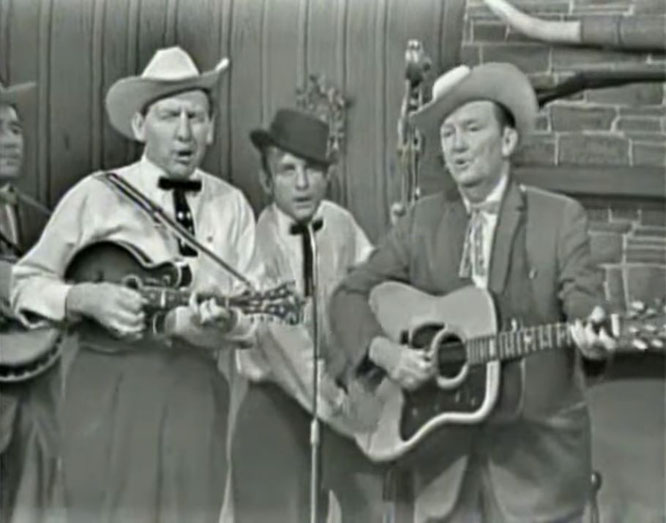 Lester Flatt And Earl Scruggs performs "Polka on the Banjo" Live Video.
The Foggy Mountain Boys were an American bluegrass band. The band was founded by guitarist Lester Flatt and banjo player Earl Scruggs and is viewed by music historians as one of the premier bluegrass groups in the history of the genre. The band was originally formed in 1948 by Flatt, who had been a member of Bill Monroe's bluegrass band. Flatt brought Scruggs with him shortly after leaving Monroe.
Flatt and Scruggs and The Foggy Mountain Boys (in various forms and line-ups) recorded and performed together until 1969. The Foggy Mountain Boys are seen as one of the landmark bands in bluegrass music. Although it featured various casts, during the years of The Lester Flatt and Earl Scruggs Grand Ole Opry Show, notably sponsored by grain and flour producer Martha White, the band showcased fiddle player Paul Warren, a master player in both the Old-Time and Bluegrass fiddling styles, whose technique reflected all qualitative aspects of 'the bluegrass breakdown' and fast bowing style; dobro player Uncle Josh Graves, an innovator of the advanced playing style of the instrument now used in the genre, stand-up bass player Cousin Jake Tullock, and mandolinist Curly Seckler.
Lester Flatt & Earl Scruggs – Polka on a Banjo Lyrics
There's a sweet young Miss, I love to kiss, but listen close and hear me.
She's not my only love, I have another love,
and she'll just have to share me.
But she's five foot tall, high heel and all, she already knows.
She had some competition, in a composition, known as polka on an old banjo.
Chorus
Polka on a banjo, make that five string hot.
Polka on a banjo, give it all you've got.
Polka on a banjo, watch them fingers go.
Of all the songs I guess, the one that I love best,
Is the polka on an old banjo.
(Banjo Solo)
And when they start the band,
she takes me by the hand, and I begin to swing her.
She knows I never miss, a chance to steal a kiss,
or dance the polka with her.
I don't speak a word ,once I have heard, the one thing I love so.
She's caught in the middle,
she played the second fiddle, to a polka on an old banjo.
Chorus - End