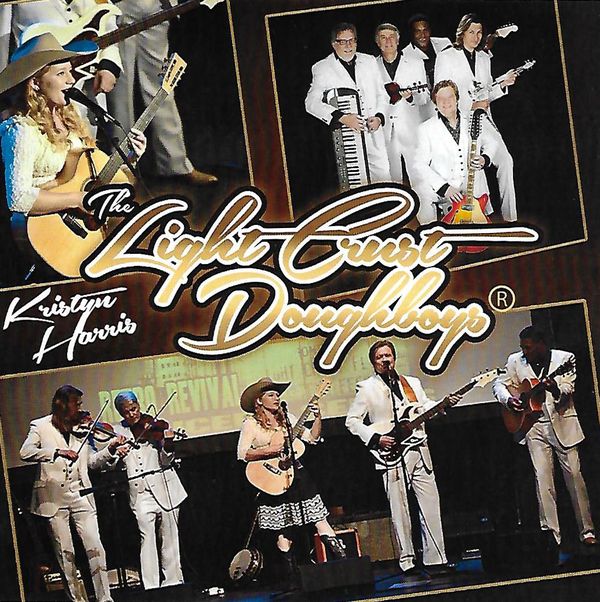 The legendary Light Crust Doughboys have just released another very enjoyable album of 12 tunes. This one features young and talented vocalist Kristyn Harris on many of the cuts. Art Greenhaw is the leader of the group and also does many of the vocals.
The album opens with a wonderful instrumental version of the longtime Bob Wills standard, San Antonio Rose. The album's other instrumental is also from the Bob Wills book, Faded Love. Also from the Wills songbook is the first with Kristyn on vocal, Fred Rose's Roly Poly. She is also featured on vocal on Patsy Montana's Cowboy's Sweetheart, Stan Jones' Ghost Riders in the Sky, pop music's Sit Right Down and Write Myself a Letter, All of Me and the Western Swing classic from Spade Cooley, Wesley Tuttle and Elton Britt, Detour. Also included is the western classic Skyball Paint and Art on vocal on the Tex Williams western swing classic, Smoke, Smoke, Smoke. Kristyn also brings back Waltz Across Texas from Ernest Tubb and the Texas Troubadours. Art closes the album with Stuart Hamblen's inspirational masterpiece It is No Secret.
Art Greenhaw has let me know that there is a "DJ Mike Gross special pricing for fans": prices include tax and shipping and handling: $15.00 for this CD, $25.00 for both this CD and the Christmas CD that Kristyn also recorded with the Light Crust Dougboys. Checks should be made out and mailed to: LIGHT CRUST DOUGHBOYS, 1211 Lakeshore Dr., Mesquite, TX 75149.
Mike Gross, KSEY-FM, Seymour, TX, KTNK-AM, Lompoc, CA and www.swinginwest.com
June 5, 2018