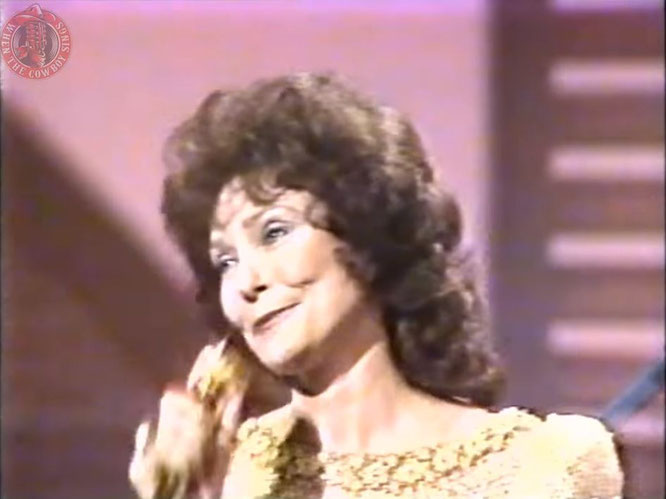 Loretta Lynn performs "Walking After Midnight"
"Walkin' After Midnight" is a song written by Alan Block and Donn Hecht and recorded by American country music artist Patsy Cline. The song was originally given to pop singer Kay Starr; however, her label rejected it. The song was left unused until Hecht rediscovered it when writing for Four Star Records. Originally Cline was not fond of "Walkin' After Midnight", but after making a compromise with her label she recorded it.
In January 1957, Cline performed the song on an episode of the CBS television program, Arthur Godfrey's Talent Scouts. It garnered a strong response from viewers and was therefore rush-released as a single February 11, 1957. "Walkin' After Midnight" became Cline's first major hit single, reaching No. 2 on the Billboard country music chart and No. 12 on its pop chart. Although the song was her only hit until 1961, the single version sold over one million copies and is often included on authoritative lists of the all-time greatest songs in country music.
Patsy Cline Walking After Midnight Lyrics
I go out walkin' after midnight
Out in the moonlight
Just like we used to do, I'm always walkin'
After midnight, searchin' for you (wa-wa-walking, wa-wa-walking)
I walk for miles along the highway
Well, that's just my way
Of sayin' I love you, I'm always walkin'
After midnight, searchin' for you (wa-wa-walking, wa-wa-walking)
I stop to see a weepin' willow
Cryin' on his pillow
Maybe he's cryin' for me
And as the skies turn gloomy
Night winds whisper to me
I'm lonesome as I can be
I go out walkin' after midnight
Out in the moonlight
Just hopin' you may be somewhere a-walkin'
After midnight, searchin' for me (Wa-wa-walking, wa-wa-walking)
I stop to see a weepin' willow
Cryin' on his pillow
Maybe he's cryin' for me
And as the skies turn gloomy
Night winds whisper to me
I'm lonesome as I can be
I go out walkin' after midnight
Out in the moonlight
Just hopin' you may be somewhere a-walkin'
After midnight, searchin' for me (wa-wa-walking, wa-ooh-ah)