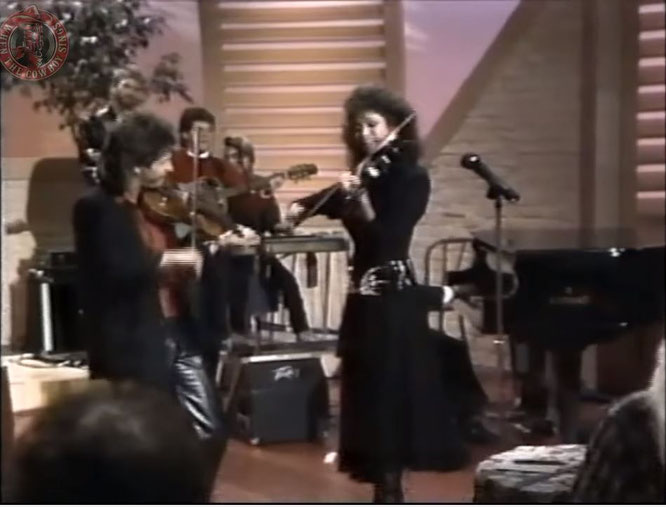 Louise Mandrell performs "Thank God I´m A Country Girl"
"Thank God I'm a Country Boy", also known as "Country Boy", is a song written by John Martin Sommers and recorded by American singer/songwriter John Denver.
The song was originally included on Denver's 1974 album Back Home Again.
A version recorded live on August 26, 1974, at the Universal Amphitheatre in Los Angeles was included on his 1975 album An Evening with John Denver.
The live version was released as a single and went to No. 1 on both the Billboard magazine Hot Country Singles and Billboard Hot 100 charts.[3] The song topped both charts for one week each, first the country chart (on May 31), and the Hot 100 chart a week later. Thank God I'm a Country Boy also became the name of a variety special show hosted by Denver in 1977.
"Thank God I'm a Country Boy" was one of six songs released in 1975 that topped both the Billboard Hot 100 and Billboard Hot Country Singles charts. Denver's two-sided hit "I'm Sorry"/"Calypso" also received that distinction.
The German cover band Village Girls covered it under the title "Thank God I'm a Country Girl"
Village Girls Thank God I'm a Country Girl Lyrics
well life on the farm is kinda laid back
ain't much an old country girl like me can't hack
it's early to raise early in the sack
thank God i'm a country girl
well a simple kinda life never did me no harm
a raisin' me a family and a-workin' on the farm
my days are all filled with an easy country charm
thank God i'm a country girl
well life on the farm is kinda laid back
ain't much an old country girl like me can't hack
it's early to raise early in the sack
thank God i'm a country girl
well a simple kinda life never did me no harm
a raisin' me a family and a-workin' on the farm
my days are all filled with an easy country charm
thank God i'm a country girl
well i got me a fine man i got me old fiddle
when the sun's comin' up i got cakes on the griddle
and life ain't nothin' but a funny funny riddle
thank God i'm a country girl
when the work's all done and the sun's settin' low
i pull out my fiddle and i rasin' up the bow
the kids are asleep so i keep it kinda low
thank God i'm a country girl
i'd play sally goodin' all day if i could
but the Lord and my man wouldn't think it very good
so i fiddle when i can and i work when i should
thank God i'm a country girl
well i got me a fine man i got me old fiddle
when the sun's comin' up i got cakes on the griddle
and life ain't nothin' but a funny funny riddle
thank God i'm a country girl
i wouldn't trade my life for diamonds or jewels
i never was one of them money hungry fools
i'd rather have my fiddle and my farming tools
thank God i'm a country girl
city folk are drivin' in a black limousine
a lotta sad people thinkin' that's a mighty keen
well son let me tell ya now exactly what i mean
thank God i'm a country girl
well i got me a fine man i got me old fiddle
when the sun's comin' up i got cakes on the griddle
and life ain't nothin' but a funny funny riddle
thank God i'm a country girl
well i got me a farm i got me old fiddle
when the sun's comin' up i got cakes on the griddle
life ain't nothin' but a funny funny riddle
thank God i'm a country girl