Call Me Up (And I'll Come Calling On You)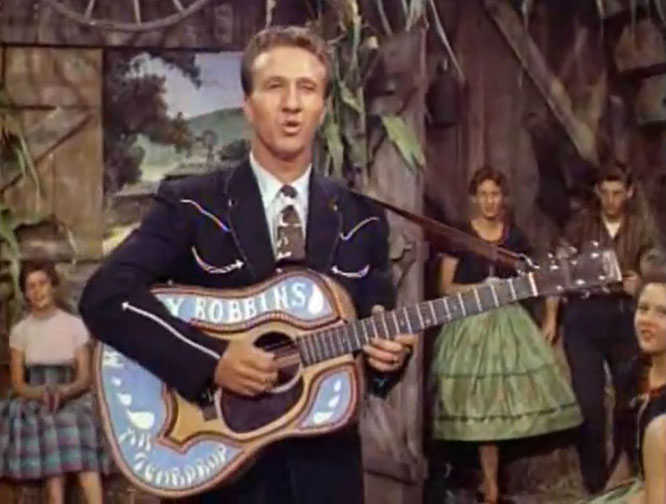 Martin David Robinson (September 26, 1925 – December 8, 1982), known professionally as Marty Robbins, was an American singer, songwriter, actor, multi-instrumentalist, and racing driver. One of the most popular and successful country and western singers of all time for most of his near four-decade career,Robbins often topped the country music charts, and several of his songs also had crossover success as pop hits.
Robbins' discography consists of 52 studio albums, 13 compilation albums, and 100 singles. In his career, Robbins has charted 17 Number One singles on the Billboard Hot Country Songs charts, as well as 82 Top 40 singles.
Robbins' highest charting album is 1959's Gunfighter Ballads and Trail Songs. It charted to #6 on the all-genre Billboard 200, and was also certified Platinum by the Recording Industry Association of America. The album's first single, "El Paso", become a hit on both the country and pop charts, charting to Number One on the Hot Country Songs as well as the Billboard Hot 100. Although being his only pop Number One, in 1957, "A White Sport Coat" charted to #2, and in 1961, "Don't Worry" charted to #3.
His final Top 10 single was "Honkytonk Man" from the 1982 eponymous film in which Robbins had a role. He died shortly before its release. Since his death, four posthumous studio albums have been released, but they made no impact on the charts.
Marty Robbins - Call Me Up (And I'll Come Calling On You) Lyrics
When you're all alone and blue
And you don't know what to do
Call me up and I'll come calling on you
When you're all alone at home
And no one calls you on the phone
Call me up and I'll come calling on you
When there's teardrops big and round
In your eyes so big and brown
And your little old heart is about to break in two
Well, I know you know we know that they know
I'm in love with you
Call me up and I'll come calling on you