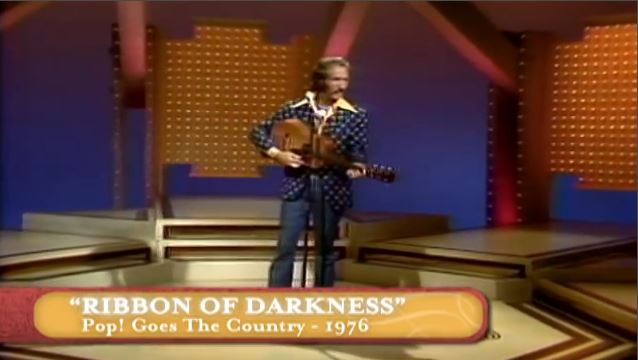 Marty Robbins Performs"Ribbon Of Darkness"on Pop Goes The Country.
"Ribbon of Darkness" is a song written by Gordon Lightfoot that was released in 1965 as a single by Marty Robbins. The song was Robbins' eleventh number one on the U.S. country singles chart, where it spent one week at the top and a total of nineteen weeks on the chart.
Lightfoot's own version was released as single in 1965 and included in his 1966 debut album Lightfoot! and again for his 1975 compilation album Gord's Gold. The latter recording features the song in a medley with "I'm Not Sayin'", as does the live recording from Lightfoot's 1969 Sunday Concert album.
Marty Robbins Ribbon Of Darkness Lyrics
Ribbon of darkness over me
Since my true love walked out the door
Tears I never had before
Ribbon of darkness over me 
Clouds a-atherin' o'er my head
That kill the day and hide the sun
That shroud the night when day is done
Ribbon of darkness over me 
Rain is falling on the meadow
Where once my love and I did lie
Now she is gone from the meadow
My love goodbye 
Ribbon of darkness over me
Where once the world was young as spring
Where flowers did bloom and birds did sing
Ribbon of darkness over me 
Here in this cold room lyin'
Don't want to see no one but you
Lord I wish I could be dyin'
To forget you 
Oh how I wish your heart could see
How mine just aches and breaks all day
Come on home and take away
This ribbon of darkness over me