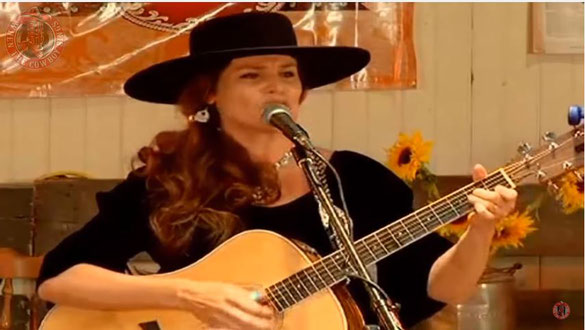 Mary Kaye
A multiple award winning entertainer, Mary Kaye tours extensively throughout the United States and Canada with her unique brand of western roots music. She is a native born Texan and as a young woman ventured off to Utah where she "married her a cowboy." Their family has deep western roots that go back six generations and reside in the small western town of Escalante, a 140 year old ranching community in southern Utah. The authenticity of her music emerges from being a mother of cowboys, wranglers, and rodeo sweethearts; caring for livestock, and a life in one of the most remote places in the Western United States. Mary Kaye combines traditional trail songs with fresh, contemporary material, and award winning originals. She has been married to her husband Brad for 31 years, they have ten children.
Mary Kaye recently released her forth solo studio western album, Ride A Wide Circle, to glowing reviews. Paul Riley of the respected Country Music People Magazine out of the UK declared, "Mary Kaye's CD is one of those perfect albums. Everything comes together: the songs, the superb vocals, backing musicians on top form, very good production and best of all Mary Kaye's unique feel for her music." The magazine gave it a glowing 5 stars, their highest honor! The CD debuted at #1 on the Western Music Charts, the title track earned a prestigious Wrangler Award from The National Cowboy and Western Heritage Museum, and her song "Grit, Grace, and Balin' Twine" received a Will Rodgers Award from the Academy of Western Artists for Western Song of the Year.
Awards for Mary Kaye's singing and songwriting have been plentiful. In 2013 she was recognized as Songwriter of the Year as well as Best Female Performer by the Western Music Association, also by True West Magazine as Best Solo Musician and received a Spur Award from the Western Writer's of America for her Butch Cassidy tune, "Any Name Will Do." In 2012 she won the Song of the Year award from the Western Music Association, with cowboy poet Les Buffham, for their song, "No Wilder Place." The Academy of Western Artists bestowed on her a Will Rogers Award in 2011 for Best Western Female Performer and in 2010 she was honored as the Female Vocalist of the Year by the Western Music Association.
The year 2013 was a good year for Mary Kaye. Her album, The Dawn and The Dusk, hit #1 on the Western Music Charts and received excellent reviews in American Cowboy, County Music People, Maverick, The Western Way, and Western Horseman magazines. In addition, her song "Jealous of the Moon," was chosen by American Cowboy as the Top Cowboy Song of 2013 and the album was nominated as the 2013 Western Album of the Year by the Western Music Association. Her No Wilder Place album also received excellent reviews in American Cowboy, The Western Way, and Western Horseman and debuted at #1 on the western charts. Mary Kaye's first western album, Clean Outta Luck, rose to #2 on the charts and garnered a Western Music Association Song of the Year nomination for "Cowboy Waltzin' Across Her Mind."
Renowned western artist Maynard Dixon declared, "The spirit of the West sings in every soul." Mary Kaye believes this and shares this spirit in every performance. Her music is rooted deeply in the Western landscape her life is immersed in. The critics have been prolific with praise for Mary Kaye's singing and songwriting. Western Horseman said of her, "Some Western singers and musicians are all about preserving traditional cowboy songs. Others strive to write and sing songs about contemporary cowboy life...Mary Kaye does both well, and with an authenticity that appeals to not only purists, but also those seeking something fresh."
SCVTV Presents The OutWest Concert Series
OutWest Concert Series is a live western music program hosted by OutWest Boutique and Cultural Center owners Jim and Bobbi Jean Bell at the Repertory East Playhouse in Newhall, Calif.