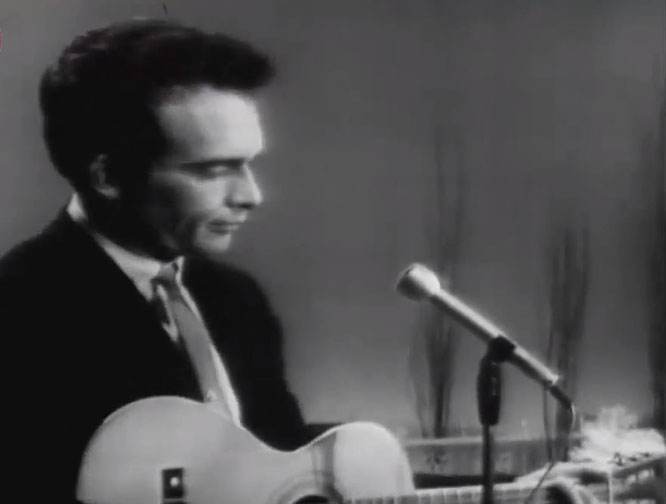 Merle Haggard performs "Please Mr. D.J.".on Billboard Country Music Award 1965.
Merle Ronald Haggard (April 6, 1937 – April 6, 2016) was an American country singer, songwriter, guitarist, and fiddler. Along with Buck Owens, Haggard and his band the Strangers helped create the Bakersfield sound, which is characterized by the twang of Fender Telecaster and the unique mix with the traditional country steel guitar sound, new vocal harmony styles in which the words are minimal, and a rough edge not heard on the more polished Nashville sound recordings of the same era.
He received many honors and awards for his music, including a Kennedy Center Honor (2010), a Grammy Lifetime Achievement Award (2006), a BMI Icon Award (2006),and induction into the Nashville Songwriters Hall of Fame (1977),Country Music Hall of Fame (1994)and Oklahoma Music Hall of Fame (1997).He died on April 6, 2016 — his 79th birthday — at his ranch in Shasta County, California, having recently suffered from double pneumonia.
Merle Haggard - Please Mr. D.J. lyrics
Hello Mr. D.J. wont you play a song for me'
The girl I love just said good-by and I'm blue as I can be
Oh please Mr. D.J. play that song I heard you play
And send it out to someone who broke my heart today
You won't have to call her name she'll know it's meant for her
Play me that song of sadness and I'll be grateful to you sir
Oh please Mr. D.J. play that song I heard you play
And send it out to someone who broke my heart today
You won't have to call her name she'll know it's meant for her
Play me that song of sadness and I'll be grateful to you sir
Oh please Mr. D.J. play that song I heard you play
And send it out to someone who broke my heart today