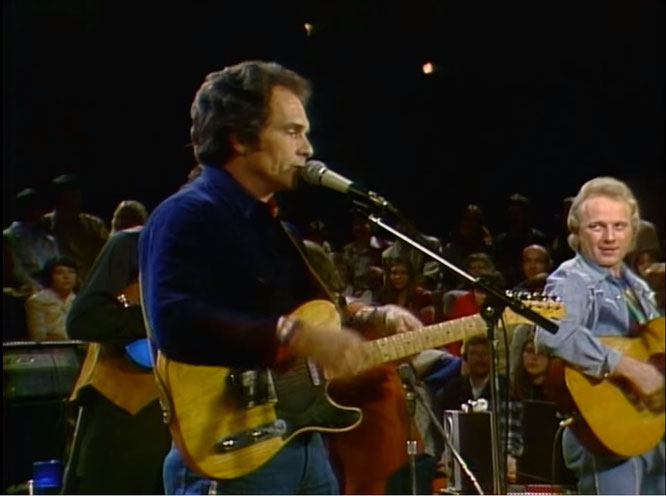 Merle Haggard performs "Workin' Man Blues".Live from Austin, TX.
"Workin' Man Blues" is a song written and performed by American country music artist Merle Haggard and The Strangers. It was released in May 1969 as the second single from the album A Portrait of Merle Haggard. The song was released during his early peak and became one of several signature songs during his career.
"Workin' Man Blues" is Haggard's tribute to a core group of his fans: The American blue-collared working man. Backed by a strong electric guitar beat that typified Haggard's signature Bakersfield Sound, he fills the role of one of those workers expressing pride in values such as hard work and sacrifice, despite the resulting fatigue and the stress of raising a large family. He admits to relaxing during the off-working hours ("I drink my beer in a tavern, sing a little bit of these workin' man's blues.") and vows that as a result of keeping his values, he will never need to go on welfare ("... cause I'll be working, long as my two hands are fit to use.").
Merle Haggard - Working Man Blues lyrics
It's a big job just gettin' by with nine kids and a wife
I been a workin' man dang near all my life 
I'll be working long as my two hands are fit to use 
I'll drink my beer in a tavern, 
Sing a little bit of these working man blues
I keep my nose on the grindstone, I work hard every day
Might get a little tired on the weekend, after I draw my pay
But I'll go back workin, come Monday morning I'm right back with the crew
I'll drink a little beer that evening, 
Sing a little bit of these working man blues
Hey hey, the working man, the working man like me
I ain't never been on welfare, that's one place I won't be
Cause I'll be working long as my two hands are fit to use
I drink a little beer in a tavern
Sing a little bit of these working man blues
Sometimes I think about leaving, do a little bummin' around
I wanna throw my bills out the window catch a train to another town
But I go back working I gotta buy my kids a brand new pair of shoes
Yeah drink a little beer in a tavern,
Cry a little bit of these working man blues
Hey hey, the working man, the working man like me
I ain't never been on welfare, that's one place I won't be
Cause I'll be working long as my two hands are fit to use
I drink a little beer in a tavern
Sing a little bit of these working man blues
Yeah drink a little beer in a tavern,
Cry a little bit of these working man blues