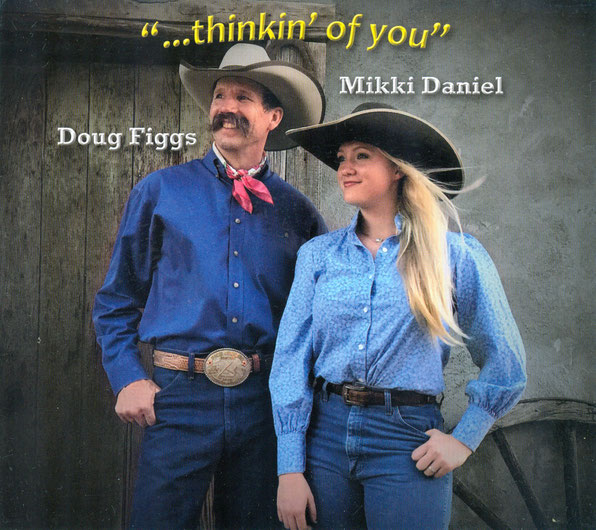 Two award-winning solo performers have teamed up for this release that should please fans of both.  Actually, in a way this one is also a release for Figgs' group The Cowboy Way, as Jim Jones and Mariam Funke are providing vocal harmonies and additional musical support here as well!
There are many "picks" on this one and I don't mean "guitar!"  Among the Figgs-penned originals would have to be "In It For The Ride," "Alchesay" and co-writes with Daniels, Rusty Battenfield and Todd Carter ("Ever Since The Rain," "Viejo Amigo" and "The Color Of My Love" respectively).  Covers on the album are Marty Robbins' "El Paso," (on which Figgs and Daniels trade off stanzas), Stuart Hamblen's theme song  "Texas Plains" (watch for the little novelty ending rewrite) and the Cindy Walker/Eddy Arnold Country classic "You Don't Know Me."  More so than the title track, I hope this last one won't strike people as leaning toward the inappropriate for this particular duo.  Although very well rendered, it hit me with kind of the same vibe as when the Sinatras (father and daughter) went "and spoiled it all by saying something stupid like I love you" back in the '70s.   Yes, I know...the music is the thing, but still....  
Fourteen tracks, and it's recommended of course.  
CD:  (available through www.mikkidaniel.com, www.dougfiggs.com, cdbaby & iTunes)
- by Rick Huff
Big Iron (feat. Doug Figgs)
In It for the Ride
One More Ride
...thinking of You
Alchesay
Medina Mules
Chasin' the Sun
Majesty's Song
Ever Since the Rain
Saddle up and Ride
Viejo Amigo
Texas Plains (feat. Doug Figgs)
The Color of My Love (feat. Mikki Daniel)
You Don't Know Me