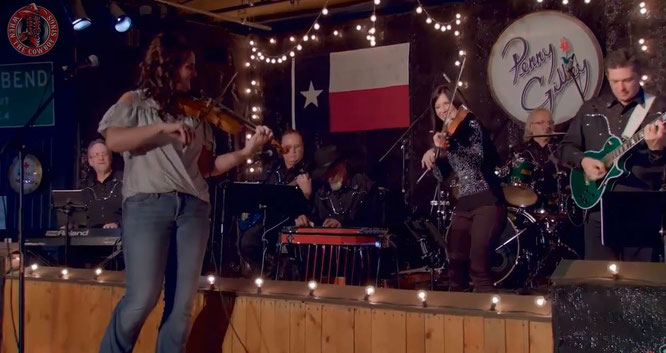 Emmylou Harris' recording of "You Never Can Tell" - entitled "(You Never Can Tell) C'est La Vie" - was the lead single from her 1977 Warner Bros. Records album Luxury Liner.
Harris had sung Chuck Berry songs as a member of a DC-based folk trio early in her career. Her decision to record "...C'est La Vie" was the result of her listening extensively to rock-&-roll oldies while on the road.The track, which features a prominent Cajun fiddle contribution by Ricky Skaggs, was recorded in an August 10, 1976 session recorded in the Enactron Truck, the mobile studio owned and operated by Harris' producer Brian Ahern. The same session yielded "Hello Stranger" which would serve as the B-side of the single release.
Released February 2, 1977, "...C'est La Vie" rose as high as #6 on C&W chart in Billboard that April. The track also rose to #4 and #5, respectively in the Netherlands and also the Flemish Region of Belgium. It also charted in Germany at #41.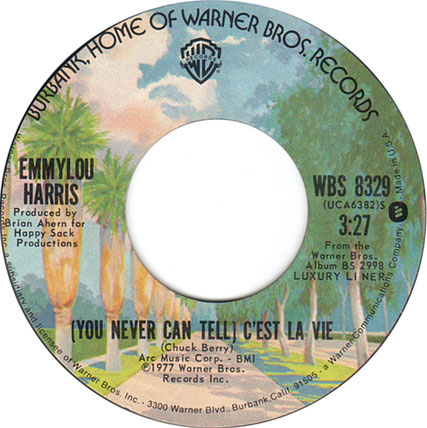 Emmylou Harris You Never Can Tell C'est La Vie Lyrics
It was a teenage wedding 
And the old folks wished them well 
You could see that Pierre 
Did truly love the mademoiselle 
And now the young monsieur and madame 
Have rung the chapel bell 
"C'est la vie", say the old folks 
It goes to slow you never can tell
They furnished off an apartment 
With a two room Roebuck sale 
The coolerator was crammed 
With T.V. Dinners and ginger ale 
But when Pierre found work 
The little money comin' worked out well 
"C'est la vie", say the old folks 
It goes to show you never can tell
They had a hi-fi phono 
Boy did they let it blast 
Seven hundred little records 
All rockin' rhythm and jazz 
But when the sun went down 
The rapid tempo of the music fell 
"C'est la vie", say the old folks 
It goes to show you never can tell
They bought a souped-up Jimmy 
T'was a cherry-red fifty three
Drove it down to Orleans 
To celebrate their anniversary 
It was there that Pierre 
Was wedded to the lovely mademoiselle 
"C'est la vie", say the old folks 
It goes to show you never can tell
It was a teenage wedding 
And the old folks wished them well
You could see that Pierre 
Did truly love the mademoiselle
And now the young monsieur and madame 
Have rung the chapel bell 
"C'est la vie", say the old folks 
It goes to show you never can tell
"C'est la vie", say the old folks 
It goes to show you never can tell
"C'est la vie", say the old folks 
It goes to show you never can tell